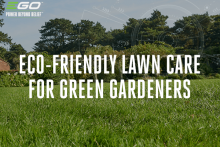 Organic and wildlife-friendly gardening
Interest in rewilding and more natural gardening practices is growing and this encompasses lawn care. 
You might have stopped using powerful weed killers on your driveway, established a compost heap, and researched using grey water on your garden in the summer months. But your lawn care can also become more environmentally friendly.
The 'perfect lawn' used to be considered as one that was aesthetically pleasing - level, even, with defined edges and which was diligently mowed to an exact height. Does this image hold true for the 2020s?