BAX1500
Professional-X Backpack Battery
EGO Power+ products come with extended warranties up to five years when registered within 30 days of purchase. Read our warranty information for more details.
Full Description
Team up your EGO Power+  tools with one of our Professional-X Backpack.
Balancing exceptional run time with user comfort, EGO's Lithium-ion BAX1500 backpack is ergonomically designed to keep you working all day long. The battery pack can be removed from the harness* allowing the battery to be shared amongst multiple users, each with their own harness for improved hygiene.
To ensure optimum performance, efficiency and longevity, these high energy capacity batteries incorporate intelligent individual cell monitoring and balancing, both when it's powering a tool and when it's recharging.
Designed to perform, built to last
Delivering the run times you demand, EGO Power+ backpack batteries can give you a full day's work** from a single charge. The high-quality cells, with high power rating and high energy density, can handle in excess of 1,000 charge cycles. Plus, with fast recharging, you can go from empty to full in just 3.5 hours. 
Flexible Performance
They're compatible with all EGO Power+ tools, and as the battery is on the harness and not on the tool, the tools are even lighter and easier to use.
*AFH1500 Frame & Harness and ADB1000 adapter not included
Weatherproof Protection: IP56
Key Features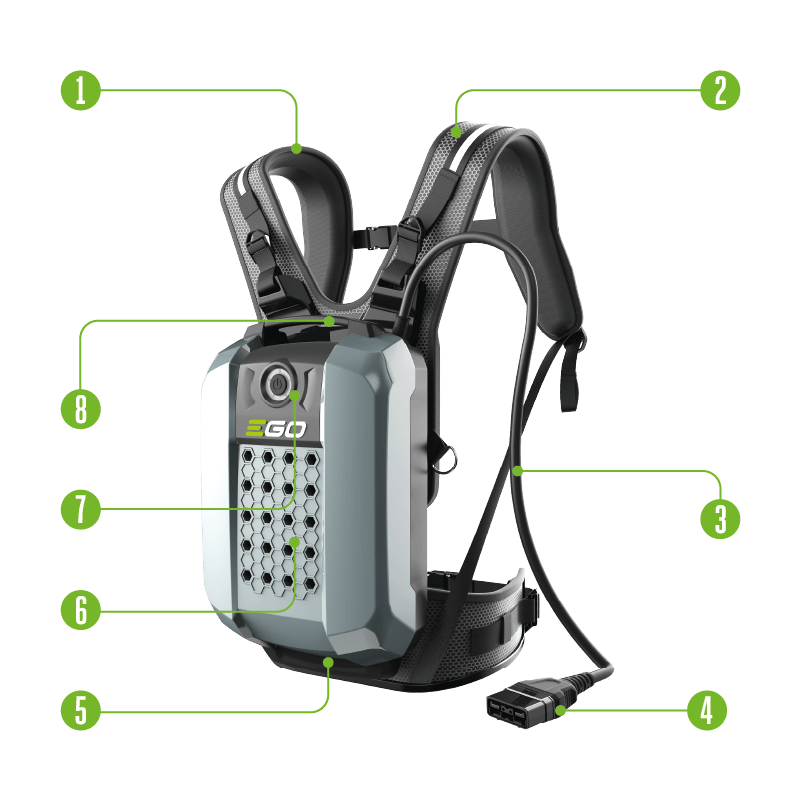 WATER RESISTANT HARNESS

COMFORTABLE AND STURDY BACKPACK SYSTEM

For comfort during long periods of use

HIGH CURRENT CAPACITY CABLE

ROBUST CABLE AND PLUG

Designed for the toughest conditions

12V AND USB CHARGING POINTS

MANAGED AIR VENTS

To keep the battery cool

LED FUEL GAUGE

RETRACTABLE CARRYING HANDLE
Product Specification
| | |
| --- | --- |
| Capacity | 28 Ah |
| Capacity | 1568 Wh |
| Charge Time (Rapid) | 210 mins |
| Charge Time (Standard) | 420 mins |
| Weight | 9.04 kg |
| Harness | Detachable |
| Charging | CHX5500E |
| Life Cycle | Up to 1200 cycles |
| Manual Download | Download Manual |
| Download Safety Sheet | Download Safety Sheet |