CORDLESS LEAF BLOWER
Powered by a high-efficiency brushless motor, our cordless leaf blowers feature jet turbine technology and large diameter tube to give maximum airflow.+
Our range of cordless leaf blowers
With an emphasis on control, our range of cordless leaf blowers are loaded with features that help you tackle all areas, from the delicate, to the tricky and the wet. And powered by a battery that delivers the highest energy capacity of any handheld on the market, it's more than enough to clear up even the biggest windfall. Certain blower models are available in a money-saving kit with battery and charger.
BATTERY LEAF BLOWERS
Driven by a high efficiency brushless motor, our cordless leaf blower blowers also feature jet turbine technology and have a large diameter tube for maximum airflow. Significantly quieter and with zero emissions, they offer a compelling, high performance alternative to petrol.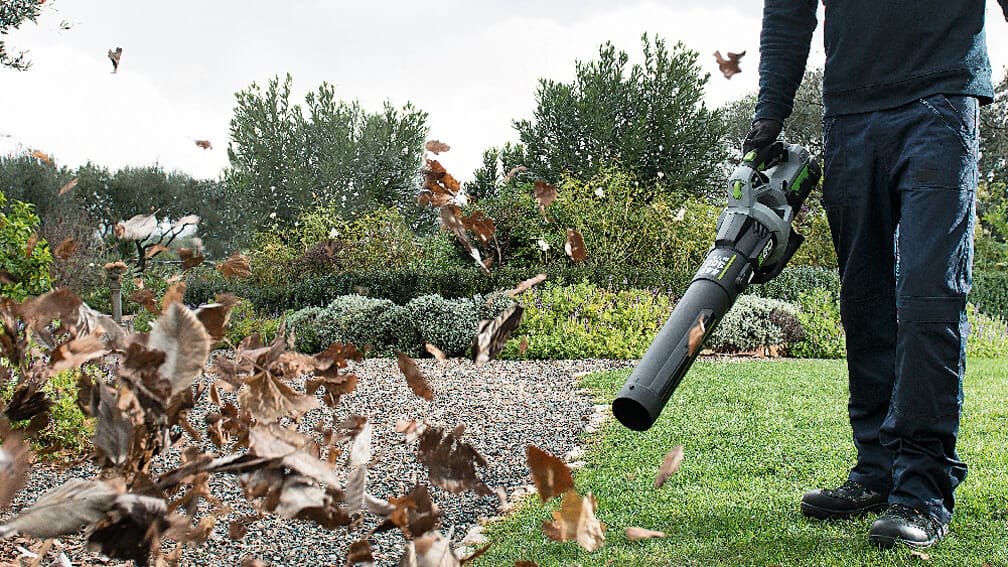 EGO Power+ Extended Warranty
EGO Power+ products come with extended warranties up to five years when registered within 30 days of purchase. Read our warranty information for more details. 
This is the best blower ever!!

I have had this for a month and love it! It is lightweight, battery charges fast, and is great for blowing leaves, fir needles, and whatever else falls on my long, cement driveway! One does not need to run this on high power, or with the turbo - that just used up the battery faster

Leaf Lady

Great Blower

This blower has never failed me in two years of use. It has the power to lift wet, stuck maple seeds, dirt, leaves, sticks and most debris you will find on sidewalks and driveways. The variable setting is very useful and the turbo thumb button is easily pressed to get more power to blast stuff away.

GreenMower

Blew me away

Literally blew me away, the force this bliwer generates is mind blowing. Great piece of kit for any gardner and wouldn't be without mine!

D Judges

Awesome product

Really powerful. Boost function is great and even moves wet leaves

Anon

LB5800E Blower

Powerful and quiet compared to a petrol blower. Super impressed by its performance.

Anon

Incredible powerful blower

Old petrol blower gave up the ghost and was talked into the benefits of a Ego Power machine. Should have changed earlier. Absolutely delighted !!!

Tonyx1302

Easy to use and not too noisy

I've added this to my other EGO appliances (lawn mower + hedge cutter) and am very pleased with it. Easy to operate, not too heavy and not too noisy. I very much like using these environmentally friendly tools.

Spencer

More powerful than a major rival I also own

Unbelievably powerful blower, the boost function is great for battery management. I've been using this not just for leaves but to also blow off the lawn after scarifying and clearing the patio. The adjustable power means it could be used to blow out the garage/shed space. I have another blower by a major cordless brand (it's red) and this Ego unit is a lot more powerful.

Steve Q

Best cordless leaf blower on the market :)

Outstanding bit of kit. Fantastic at doing the task in hand. The Turbo boost function is particularly useful.

Dan A
EGO Power+ Backpack Blower Range
Our backpack blower is hugely powerful, yet easy to use and packed with all the features you need. The comfortable and sturdy frame makes using it for long periods a breeze, which is useful as our batteries deliver long-lasting power to get the job done. Power it up to max, and you can clear even the most troublesome areas in no time - and backed up by the brushless motor, you can enjoy doing so with less noise and vibration than a petrol-powered equivalent.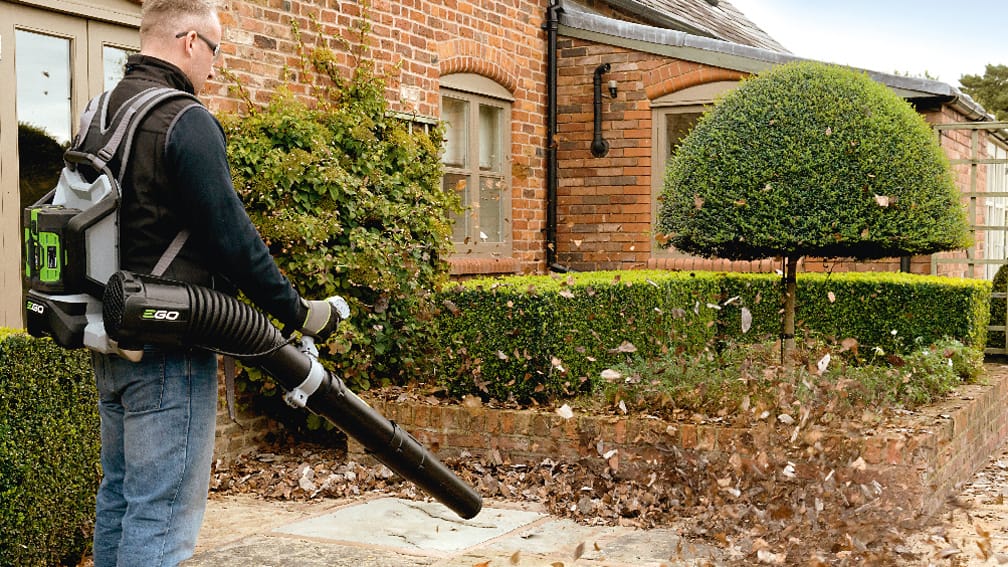 Blows petrol-powered leaf blowers out of the park
EGO's range of cordless leaf blowers are a pleasure to work with. Driven by a high-efficiency, brushless motor, they are light to manouevre and designed to maximise airflow.
Most leaf blowers have variable speed controls - low speed and low volume for delicate areas, to high-speed, high-volume airflow for hard-to-shift wet leaves. 
All battery powered cordless leaf blower models offer you more power than most other handheld cordless leaf blowers on the market, plus a large diameter tube, and jet turbine and turbo boost technology.
Despite all this power, EGO cordless leaf blowers are significantly quieter than petrol, and don't give off any emissions.
We're so confident you'll be satisfied, they come with an excellent warranty.
The power behind our cordless leaf blower
Our 56V ARC Lithium™ batteries have 40% more power than the leading 40V battery, which makes EGO cordless leaf blowers among the most powerful and long-lasting you can buy.
Each kit includes a battery charger and your battery-powered leaf blower. Our unique patented 56V ARC Lithium™ batteries provide you with the power you need to tackle any task. 
They are long lasting and available in different sizes, so you can match your battery to your needs. Keep Cool™ Technology keeps them working long and hard and prolongs their life, too.
All our batteries are interchangeable across the entire EGO cordless garden tool range. As the batteries go up in size, so does the power capacity and run time. 
For example, you can run an LB5300E cordless battery powered leaf blower on high speed for up to 22 mins on a 2.5Ah battery. At the other end of the scale, you can run an LB7650E battery leaf blower for up to 60 minutes with a 12.0Ah battery. Speed is variable, and don't forget turbo boost for some extra force.
A battery powered leaf blower that suits your requirements
Our cordless leaf blower range has been designed to meet a wide range of requirements, from the small patio to the public park.
Each battery powered leaf blower includes features that make tidying leaves and other detritus from your garden less laborious - and, as you can see from our videos, even a pleasure.
Our leaf blower that's been designed for small garden areas is the LB5300E 900M³/H Blower, which also comes in a kit with a 2.5Ah battery and a charger.
We have many battery powered leaf blower models for medium and large gardens too, like the LB5800E 986M³/H Blower, which is supplied with round and flat nozzles so you can equip which one suits your needs. 
For gardeners with larger gardens, and professionals, the EGO Backpack Leaf Blower offers comfort and longer-lasting performance. The Backpack Leaf Blower has the ability to blow over 1020m2 of air per hour on max, and has up to 2 hours* of run time. The leaves don't stand a chance!
*120min at 440 m3/h with 5.0ah battery
The backpack leaf blower is available in money-saving kits, too. Choose between the LB6002E 1020M³/H Backpack Blower Kit (5.0Ah battery) and the LB6000E-K1103 Backpack Blower Kit (10.0Ah battery).