Cordless Multi-Tool
A single long-lasting battery. A wide range of high-tech attachments you can swap in a flash. It's the perfect garden multi-tool.
The EGO Power+ battery multi-tool is the outdoor power tool you can't do without. It gives you everything you need to tackle every garden task with ease, whether you're edging lawns, cutting hedges, sawing branches, tilling soil, or sweeping the patio.
Powered by the innovative 56V ARC Lithium™ battery, you'll have all the power you need, without the noise, fuss or emissions of petrol powered tools.
Our range of multi-tools
With many different attachments, the EGO Power+ award winning multi-tool is ready for any job. Plus, simple, tool-free coupling makes switching attachments quick and easy.
EGO Power+ Extended Warranty
EGO Power+ products come with extended warranties up to five years when registered within 30 days of purchase. Read our warranty information for more details. 
An indispensable cordless multi-tool
The EGO Power+ Multi-Tool. One tool with lots of options. A single power unit with many different attachments - it's easy to see why it's a handy tool to have around.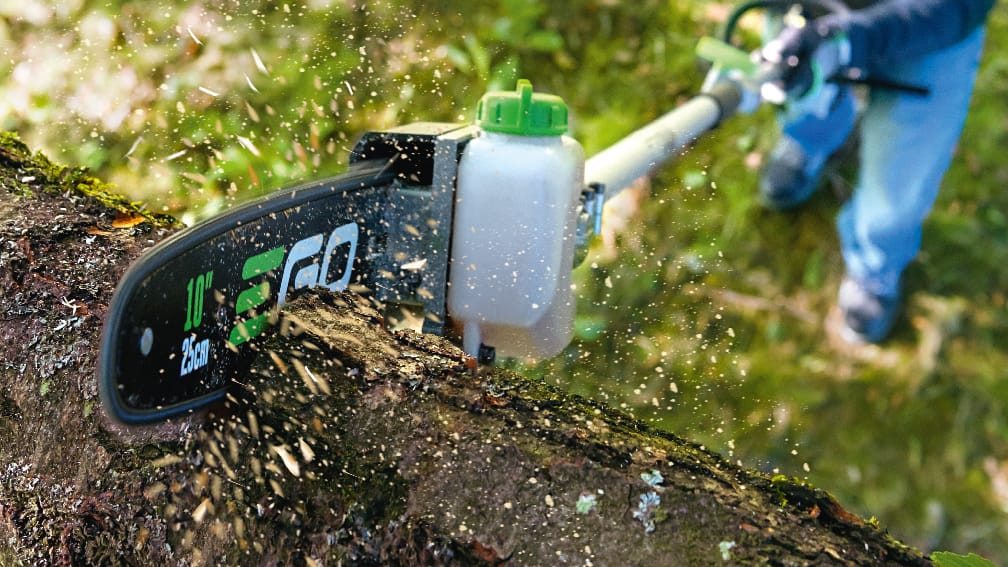 Excellent power for all attachments, solid build

It's quiet, powerful enough, not too heavy. The attachments slide in and lock with such ease. I was expecting a bit more of a struggle adding attachments, but I was dead wrong. Storage of it is nice, since it is about half the size of a string trimmer (without an attachment attached), it can be stored anywhere.

SCDC

Just a monster!

I have a very large tree/shrub in my front yard that had gotten out of control. My piddly little Black & Decker corded electric trimmer wasn't up to the task, with it's short blade. The EGO Power + Hedge Trimmer and it's extra long blade allowed me to get to the top and middle of the monstrous shrub/tree/thing and now it looks more like Elmo, rather than Oscar.

Robertv19

Brush Cutter Magic

I have an 80m drive/lane to my house that get overgrown with wild plants and nettles. The brush cutter cleaned this up with no problem using about 1/6th of the battery charge. Great tool.

Earl

EGO Multi-Tool

Excellent functionality and power without the problems of a petrol engine. Good quality build, easy to operate and impressive safety features.

Roddy

Problem Solved

I bought the power head to operate a brushcutter and pole saw. This combo worked brilliantly up until the power head failed. I took it to our local dealer and a day later I had a brand new power head under the warranty. All good.

BoggyOfBucks

String Trimmer Power+ Multitool

Super simple to use! If you have the Power+ Power Head this string trimmer attachment snaps onto it like any of the other attachments. Just click it in and start knocking out those weeds. Need to do another job, snap it out and plug in another attachment, its that simple! Great work by the EGO TEAM! If you don't have this attachment you need it! If you don't have the Power+ Multitool Power Head you are missing out!

Thank you again EGO!

Dan B

Great for the garden

Excellent piece of kit. Light and adaptable so easy to carry around for the many different jobs in our large garden.

Woolie

First use of the Multi Tool head

Bought the multi tool set. Don't think I will need all the components but it still worked out much cheaper to buy the set rather than separate items. Used the strimmer head, brush cutter, hedge cutter units. Really impressed with the power of this tool. At least as good as any petrol tools I've used before it not better - certainly lighter and easier to use with no vibration and fumes. Easy to stop and start. Battery lasts longer than I do!!

Anon
A handy garden multi-tool to have around
The cordless multi-tool makes switching between different jobs easy, thanks to the simple and secure tool-free coupling system on every attachment.
The multi-tool has a number of attachments which fit into 8 product categories.
Pole Saw

Brush cutter

Rotocut

Lawn edger 

Cultivator

Bristle brush and paddle broom
These can be purchased in money-saving kits, or individually to suit your exact needs.
This battery-powered multi-tool also has a carbon fibre extension pole, so even the hardest to reach places are no challenge. We're so confident you'll be satisfied, the multi-tool and attachments come with an excellent warranty.
The power behind our cordless multi-tool
The EGO multi-tool and attachments are powered by our high-performance battery. Our unique patented 56V ARC Lithium™ batteries provide you with the power you need to tackle any task. Keep Cool™ Technology keeps them working long and hard and prolongs their life, too.
All our batteries are interchangeable across the entire EGO cordless garden tool range - there's a battery for every tool and every job. As the batteries go up in size, so does the power capacity and run time.
A garden multi-tool attachment for every task
The attachments in our multi-tool range have been designed to help you complete a wide range of gardening tasks quickly and efficiently and with great results. Each has features intended to perform well and safely.
For example, the cordless EGO Power+ CTA9500 Cultivator attachment helps you prepare the ground for planting and aeriate soil. It has a 24cm max cutting width, which is capable of quickly tilling smaller spaces as well as cultivating larger areas.
Our lightweight EGO Power+ PSA1000 Pole Saw attachment slices through tree branches fast and efficiently. This powerful pole saw attachment will soon have your garden looking in top shape with its 25cm bar and impressive 15m/s chain speed.
The EGO Power+ EA0800 Edger attachment helps you create clean edges - you'll be amazed how easy it is to achieve a precision finish. The edger allows you to select your cutting depth, giving you flexibility depending on your soil type, and comes with a 20cm cutting blade which is 3mm thick.