PROTECTING USER HEALTH
The EGO range has been designed to minimise risks to users. Our equipment is quieter, cleaner and vibrates far less than its petrol equivalent, and we're committed to continuing to innovate improvements.
Traditional petrol-powered garden tools are noisy, create toxic emissions, and vibrate at a level which can cause long-term muscular and vascular damage to its users. For commercial employers with public or private grounds to maintain, it can pose significant health and safety challenges. It can also be costly from the perspective of sick pay and productivity, plus regulatory fines and injury claims costs.
CORDLESS TOOLS AND HAND ARM VIBRATION
Hand Arm Vibration (HAV) is a neuromuscular disorder that causes numbness and muscle weakness. This can lead to serious conditions like Vibration White Finger (VWF), Carpal Tunnel Syndrome and even gangrene. 
HAV is a common symptom in workers in manufacturing and construction, and also in people using petrol-powered equipment for prolonged periods. This includes petrol-powered cordless garden power tools like leaf blowers, chainsaws, mowers and strimmers or brush cutters, used in domestic gardens and commercial grounds.
LESS VIBRATION FROM BATTERY-POWERED GARDEN TOOLS
You can reduce the risk of HAV by using tools which produce less vibration.
Although figures vary by manufacturer, in general, battery powered equipment vibrates at significantly lower levels than petrol powered equivalents: a market leading petrol powered brush cutter vibrates at 7.6m/s2, compared to an EGO cordless brush cutter that vibrates at 2.175m/s2. Partly, this is because battery powered cordless machines don't require a combustion engine to power them.
Here at EGO, our innovation is focussed on developing tools specifically to vibrate at the lowest levels, whilst still maintaining high productivity levels.
THE COST OF PERSONAL INJURY CLAIMS
Costs related to HAV injuries can be punitive. for example, in the UK, personal injury claims tend to range between £2,600 and £34,000 depending on severity. From a health and safety regulatory perspective, fines can be more devastating. In 2017, Wrexham County Borough Council was fined £150,000 for failing to address the issue of HAV in the workplace. 
By law, an employer must assess and identify measures to eliminate or reduce risks to employees from exposure to HAV. The European Physical Agents (Vibration) Directive (2002/44/EC) sets a daily action limit of 2.5m/s2 and an exposure limit value of 5.0m/s2.
Falling well within the safety exposure values, battery powered cordless equipment is more comfortable to use and less likely to cause HAV. This benefits employee well-being and productivity, and employer peace of mind.
CORDLESS TOOLS AND NOISE POLLUTION
Prolonged exposure to noise can lead to serious health effects of the human endocrine system and brain, manifesting hearing loss, cardiovascular disease, cognitive impairment and mental health problems. It has a similar impact on animals and wildlife. 
The World Health Organization cites noise as being second only to air quality as the largest environmental cause of health problems. It is also a cause of concern to employers regarding productivity, industrial injury and the wellbeing of their workforce..
PETROL GARDEN TOOLS AND NOISE POLLUTION
Petrol-powered equipment currently exceeds European legislation on noise exposure in working environments: the new Physical Agents (Noise) Directive 2003/10/EC currently sets a maximum exposure limit of 87dB in working environments.
Petrol chainsaws (105 DBA) and petrol mowers (98 DBA), for example, have been tested to be louder than a Boeing 737 at 1 nautical mile before landing (90 DBA)*. 
Cordless equipment manufactured by EGO falls within the regulatory limits. For comparison, an EGO chainsaw comes in at 85 DBA and an EGO lawn mower at 87 DBA.
LESS NOISE FROM BATTERY-POWERED TOOL
Battery powered cordless equipment is also subject to restrictions, but is better able to meet the stringent requirements. The net result is that workers can enjoy improved comfort, communication and teamwork, while their business benefits from less disruption and a continuous working schedule.
In addition to the comfort and health benefits, the lower noise levels of battery powered equipment mean it can be used at times, and in places, where petrol powered equipment would otherwise be prohibited or a nuisance – early mornings near sensitive areas such as hospitals, schools and visitor attractions. 
As European noise legislation seeks to address noise emissions caused by outdoor equipment even further (European Commission's Machinery Directive 2006/42/EC; Outdoor Noise Directive 2000/14/EC (OND)), domestic and commercial users alike might see this as a good time to invest in quieter garden power tools.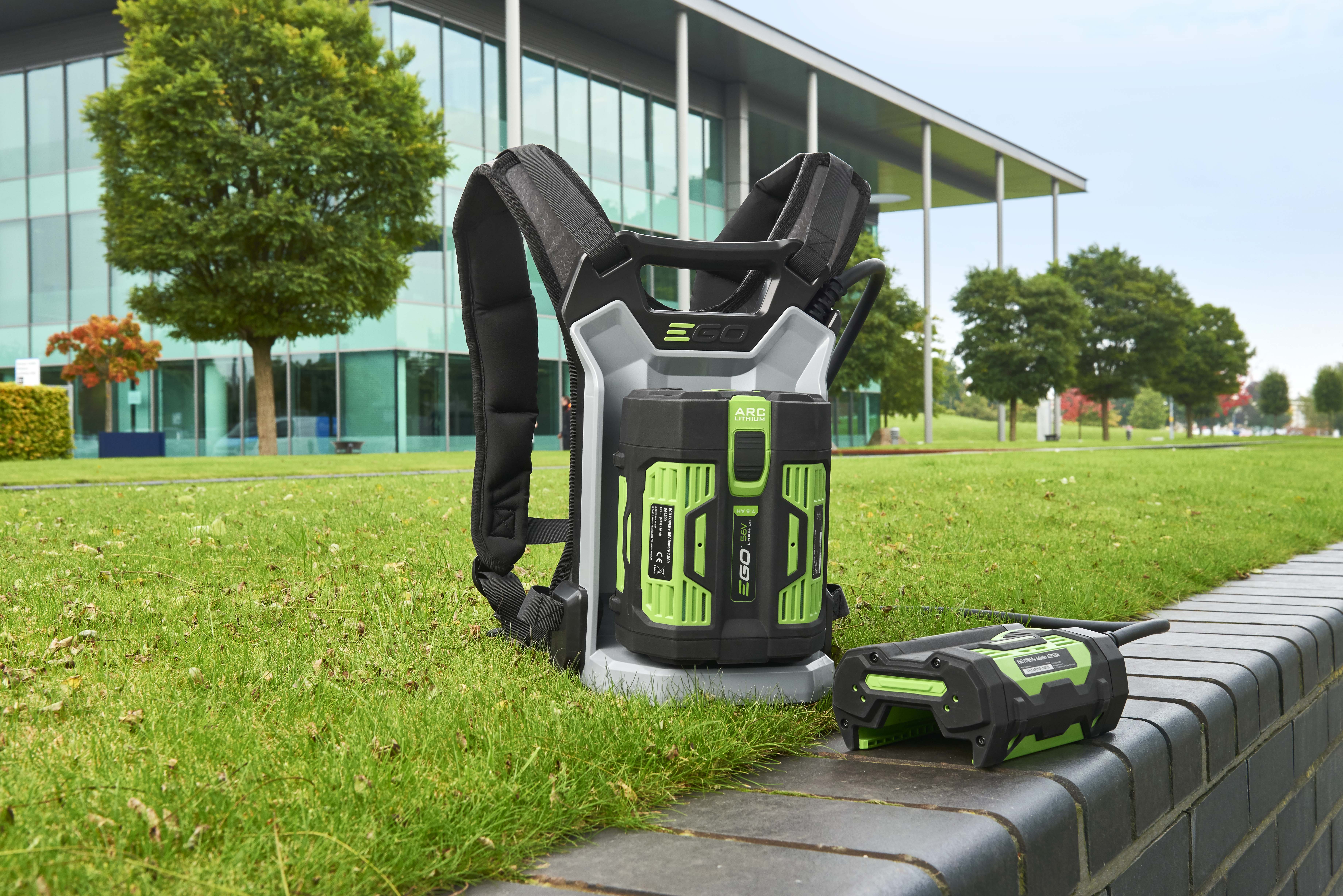 CORDLESS TOOLS, EMISSIONS AND FUMES
Regular exposure to toxic fumes produced by petrol-powered garden tools and other equipment can cause acute, long-term health problems including cancer and aplastic anaemia.
In 2017, a leading environmental organisation tested emissions from petrol-powered outdoor equipment, including cordless garden tools, and found their emissions exceeded regulatory limits. EGO's battery-powered cordless garden tools let off no emissions during use.
PETROL-POWERED GARDEN TOOLS ARE TOXIC
The Deutsche Umwelthilfe e.V. (Environmental Action Germany) undertook extensive testing of 21 handheld engines, including motor saws and brush cutters, from European suppliers. 
Its research revealed that nine tools failed to comply with EU limit values for HC+NOx (hydrocarbons and carbon monoxide), and three of these also exceeded the limit value for CO(X). 
Regular exposure to petrol emissions – especially benzene – impacts human health in many different ways, including acute and long-term adverse health effects and diseases. Accordingly, the European Commission is making a concerted effort to minimise the damage to human health caused by what it calls NRMMs – 'non-road mobile machinery' – including mowers, leaf blowers and chainsaws among others.
ZERO EMISSIONS FROM BATTERY-POWERED TOOLS
With zero chemical emissions during use, EGO's cordless outdoor power tools are unaffected by these directives – and will remain unaffected well into the future. Our ARC Lithium™ battery gives petrol-matching power but without the fumes.
Goodbye gas

Have owned this mower for 2+ years now and love it. The freedom from gas and oil, and all the complications of a gas engine is so great.

Shane2017

Best purchase ever

I purchased this Lawn Mower 2 years ago and it has been a complete dream. No more gas or oil to worry about, just charge and go

Ramosb523

Big power when you need it more

I have a few of the EGO products and love them all, I got the blower first, in May and was amazed at the power it had. Next I got the weed trimmer, and extra battery to extend all of my chores. Then last month, in September I got the hedge trimmer. Wow, I finally got power yard tools that all you do is, insert the battery and go. No gas to mix, no power cords to drag around the yard.

Boudreaux

A new generation of garden equipment

I now own the EGO blower, the hedge trimmer and the lawn mower with two batteries interchangeable among those products. Recharging is fast and easy. The lawn mower is amazingly light and makes no ruts in the lawn during wet weather. It's like a new generation has arrived.

Elderstatesman

Wow what a battery

This battery is cutting edge technology, charges in half an hour and runs for 45 minutes just as described and so great not to have to mess about with petrol cans any more.

Organiser
EGO is the future of cordless garden tools
Advancing regulation and increased awareness of the harm to health of using traditional petrol-powered cordless garden tools means that battery-power is the future.
We are one of the few equipment manufacturers who commit our research and development programme exclusively on battery powered equipment. Every year, we innovate to ensure our products are ahead of the curve when it comes to user health.