CORDLESS HEDGE TRIMMERS
Balanced, precise and powerful, our range of battery hedge trimmers have clever features that make every cut easier and more comfortable.
Our cordless hedge trimmers have a rotating handle and dual trigger system, which provide enhanced user comfort and safety. Sized at between 51cm and 65cm, EGO hedge trimmer blades are laser cut, diamond ground and double sided for clean, precise cutting.
Our range of cordless hedge trimmers
EGO cordless hedge trimmers are engineered to deliver impressive cutting ability from a single charge. Alongside robust safety features, the clean power of the ARC 56V battery and the brushless motor get the job done with less noise and vibration, and zero emissions
EGO Power+ Extended Warranty
EGO Power+ products come with extended warranties up to five years when registered within 30 days of purchase. Read our warranty information for more details. 
CORDLESS HEDGE TRIMMERS - CUT CLEANER & RUN LONGER
Balanced, precise, powerful. With diamond ground laser cut blades, a single charge delivers impressive run times that you'll be amazed how much hedge you can cut.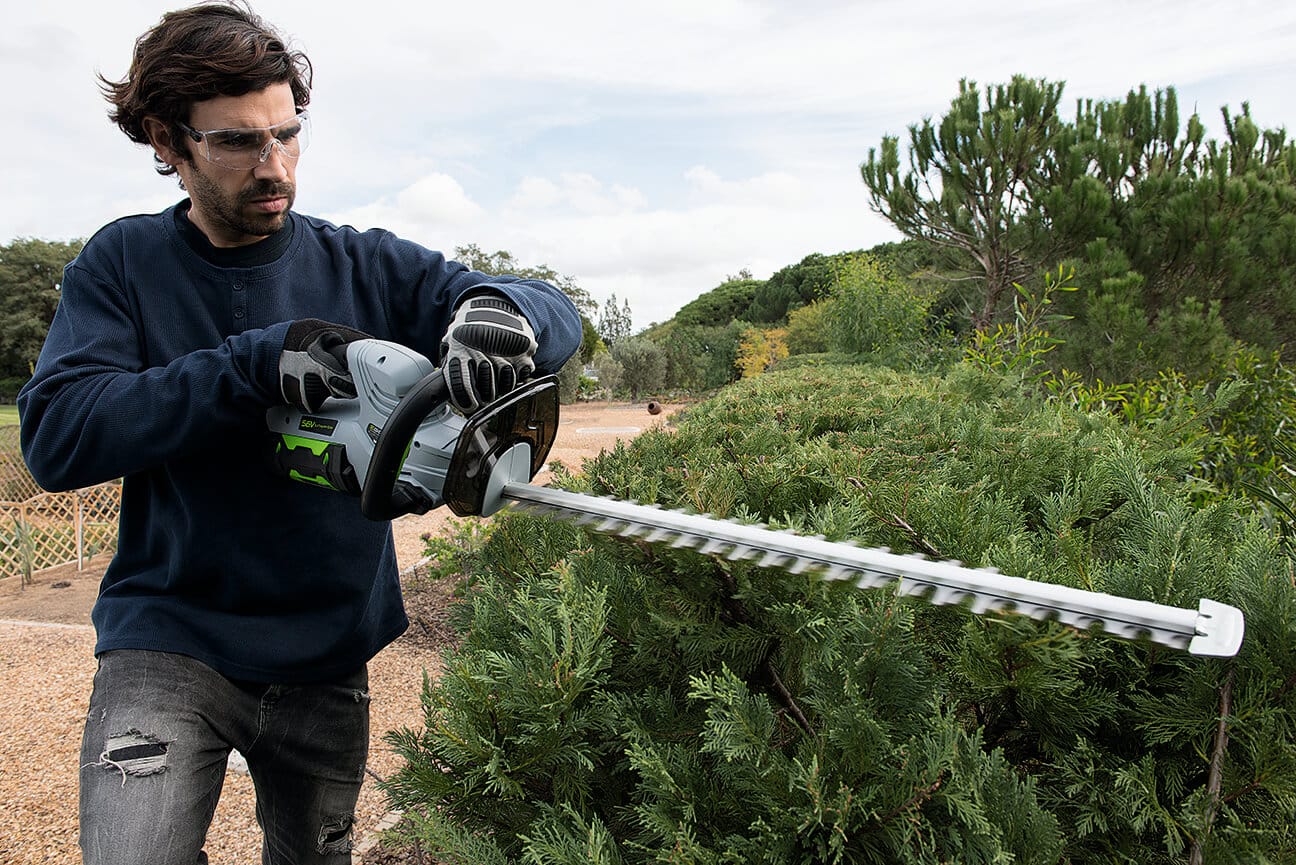 Good Investment

After several hedge trimmers going bad these past six years, I decided to get one that had the power and a reputation for endurance. I have used my EGO Hedge trimmer with far better results than I had with the previous trimmers.

Combat

"Hedge" your bets..!

Another robust and well-made piece of equipment from EGO. First I had to cut back and shape a large "Red Robin" bush, then a 20ft tall by 30ft long Leylandii hedge. The Hedge trimmer just cut through all the plant branches with no problem.

Steve, Kent

Don't you just love the power

This is a quiet, powerful and very effective piece of professional grade equipment. The quick set up, followed by a mere 30 minute first charge enabled the trimming of a badly overgrown Forsythia hedge.

Wingman

Hedge Trimmer

This is a great hedge trimmer and the battery supplied with it lasted all day using it on and off throughout the day…the best hedge trimmer I have ever used..

Mrs Moran

The hedge trimmer works exactly as expected.

The fundamental point is that it functions exactly as expected. I trialled it on a really dense privet hedge to lower it at about a metre width. (I knew nesting is about to get serious so I only took off the top 6 inches) The hedge was trimmed last December with a Cordless Bosch and it would not cut into the denser wood. The EGO got me another 6 inches into the denser growth easily. I would have gone further if the nesting season was more distant. So, very pleased. It's not too heavy and is easy to control.

Retired Greyhound

Best hedgetrimmer you'll ever buy

Having used other petrol trimmers I had read much about the Ego hedge trimmer with 56v power and it certainly doesn't disappoint! Powerful, light, incredibly sharp and cheap to run/maintain. I've used the trimmer commercially over the last 6 months and it's handled many types and sizes of hedge with ease.

Paul R

Garden has never looked so good

I relied on my gardener with his heavy, smelly petrol hedge cutter to shape shrubs and hedges in my garden until I bought the Ego trimmer. Now I just go around trimming things exactly the way I want.....it slices through everything with ease. It's very powerful and the long reach allows me to make perfectly level sides and tops. Even with the 2.5Ah battery, it lasts long enough to get the jobs done...and I have a big garden. 10/10

Anon
Hedge trimmer blades with the cleanest cut
Our battery powered hedge trimmers have blades with large cutting capacities for tackling thicker hedges. 
These high-quality blades are made from laser-cut steel with diamond-ground edges to provide the cleanest cut and promote healthier hedges. They are available in 51cm to 66cm lengths to suit every size and type of hedge. 
The smooth and quiet brushless motor and gearbox gives you all the power you need, without the vibration, emissions and noise of a petrol engine.  
Blade-tip protection stops damage from fences and walls. For safer working, the safety blade guard helps prevent injuries while the electric brake stops the blades when the trigger is released.
Other features include a two-speed selector and rotating handle for optimal operational comfort, depending on which tool you're using. We have models designed for the domestic user with small gardens, all the way up to professionals using these tools multiple hours a day.  Some models have battery-mounting on the tool itself, while the professional models require use with our Power+ backpack or Professional-X backpack battery. You can use the backpacks with any model when used with our ADB1000 battery adaptor.
We're so confident you'll be satisfied, they come with an excellent warranty.
The power behind our cordless hedge trimmers
We've continually pushed the boundaries of cordless technology and are committed to keep on doing so. Our unique patented 56V ARC Lithium™ batteries provide you with the power you need to tackle any task. Keep Cool™ Technology keeps them working long and hard, and in conjunction with intelligent power management, prolongs their life, too.
All our batteries are interchangeable across the entire EGO cordless range - there's a battery for every tool and every job. As the batteries go up in size, so does the power capacity and run time.
A battery hedge trimmer for every garden
Our range has been designed to make trimming your hedge easier and more comfortable, while getting better results - no matter how mature the trunks and foliage, or what type of shrub or hedge it is.
The range includes the  EGO Power+ HT5100E 51cm cordless hedge trimmer, a two-speed model that's ideal for the cutting of thicker stems on narrow/long hedges.
The 61cm EGO Power+ HT2410E cordless hedge trimmer has a single speed, single knife-edge design for the cutting of wider/medium hedges with thick stems.
Our Professional-X range of hedge trimmers includes the EGO Power+ HTX6500 65cm cordless hedge trimmer is precision engineered to tackle the toughest hedges with ease. It has double-sided cutting blades and can be used with the BAX1500 Professional-X backpack battery, which will provide you with up to 420 minutes of cutting on a single charge. You can also use the BH1001 backpack harness, and insert any EGO battery to make the system even more flexible.
For very small jobs, our EGO Power+ CHT2001E 20cm 12V grass/shrub shear is a compact, but hearty battery operated power tool. Ideal for everyday garden maintenance, this kit includes two attachments, plus a 2.0Ah 12V battery and 12V charger.