Cordless Lawn Mowers
A range of cordless battery lawn mowers with petrol-matching performance. Less noise, lower running costs, and zero emissions.
Our range of mowers
Cuts like a petrol mower. Just cuts out the petrol. Discover our significantly quieter, zero emission battery powered lawn mowers which offer you lower service costs and a variety of large cutting capacities.
Technology Beyond Belief
01/

Zero emissions during use

Our Arc Lithium battery gives petrol-matching power but without the fuss and fumes

02/

Less noise and Less vibration

EGO Power+ tools often operate at lower noise and vibration levels than traditional petrol-powered tools

03/

Save time

No more trips to the petrol station. No time-consuming servicing and maintenance to slow you down

04/

No petrol to store

Instead, EGO's rapid charger refuels batteries in as little as 25 minutes – less than the run time you get from a full charge
Battery Mowers With Petrol Power
Intelligent power management maximises the impressive battery life. And with easy set up, just click in and you're ready to go.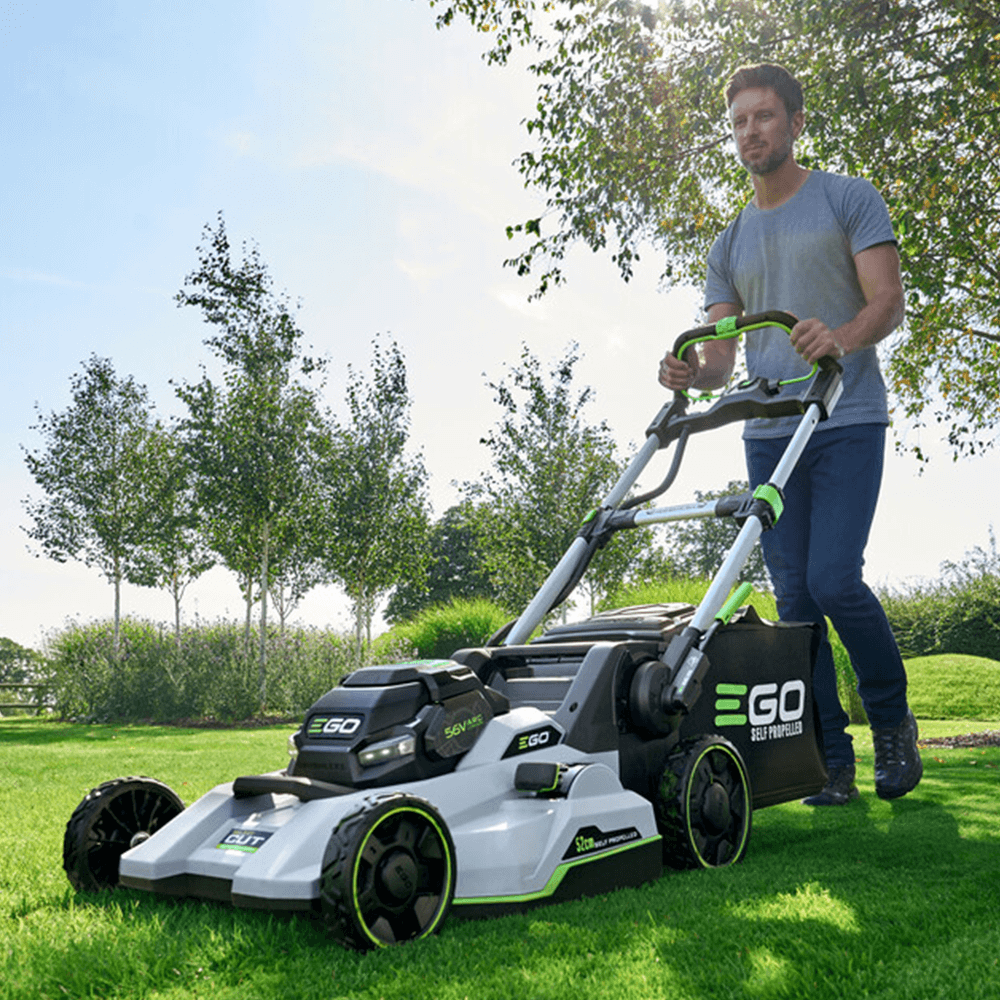 Or Buy Online
A range of specialist online retailers stock the full range of EGO Power+ products. To visit our UK distributor's EGO website, please see below:
Cordless Battery Lawn mowers built for comfort and performance
EGO battery powered mowers include self-propelled mowers and a push mower, plus the Z6 Zero-turn Ride-on. All models are designed with comfort in mind.
While our polymer deck models make the cordless lawn mower lighter, and therefore makes manoeuvring them into position much easier, we also have a steel deck model for those who prefer to have a heavier mower.
They have fewer moving parts, which means less vibration - important if you have a large garden or do frequent mowing. Thanks to the smooth brushless motor, they're less noisy, too.
All our cordless battery powered lawn mowers have adjustable handle heights and easy to reach grass box emptying positions. And to top it, they don't give off any emissions and are cheaper to run than their petrol equivalents.
Other features include a high torque, high efficiency motor, a range of cutting widths and height operated by a spring-loaded deck, quick release telescopic handle and LED headlights.
We're so confident you'll be satisfied, they come with an excellent warranty.
The power behind our battery lawn mowers
All models in the EGO range of cordless lawn mowers are powered by battery, which means you can reach right to the end of your lawn and not have to worry about the length of your power cord, or accidentally mowing through it. Each model is supplied with a battery and charger.
Our unique patented 56V ARC Lithium™ batteries provide you with the power you need to tackle any task. Keep Cool™ Technology keeps them working long and hard and prolongs their life, too.
EGO batteries out-perform running times for petrol-powered cordless lawn mowers and don't give off any toxic emissions.
All our batteries are interchangeable across the entire EGO cordless garden tool range - there's a battery for every tool and every job. As the batteries go up in size, so does the power capacity and run time.
A cordless lawn mower for every garden
Our battery lawn mower range has been designed to meet a wide range of requirements, from the small lawn to the large, and includes a selection of self-propelled lawn mowers and a zero-turn ride-on model.
Each includes essential features and accessories that make lawn mowing easier and give a professional finish, as effortlessly as possible.
For example, EGO Power+ LM1701E is a push mower with a 42cm cutting width and a 55L collection bag. It's perfect for precision mowing in smaller spaces and medium sized gardens with level ground.
With a 50cm cutting width, the EGO Power+ LM2021E-SP self-propelled mower is perfect for tackling larger gardens. It has 6 cut-height settings and a 60L collection bag.
If you've got a large area to mow, check out the EGO Power+ ZT4201E-L - also known as the Z6. This zero-turn ride-on mower is a ZTR like nothing else out there. Delivering the equivalent power of a 22 horsepower petrol engine, with none of the emissions, the Z6 covers up to 2.5 acres on a single charge with six 12Ah batteries.