BATTERY CHAINSAW
The EGO Power+ Our cordless chainsaw is built to tackle even the hardest jobs. Trunks, logs, branches - nothing gets in its way.
Choose your ideal chainsaw - from the compact & capable 35cm to the top-handle arborists' chainsaw. Each EGO chainsaw has been developed with performance and safety in mind, even with chain speeds of up to 20m/s. They are more than a match for petrol-powered chainsaws - thanks to our revolutionary ARC Lithium™ 56V battery system, without the noise, fuss, or fumes.
Our range of chainsaws
Everyone, from casual gardeners to professional arborists, will find an EGO battery powered chainsaw that suits their needs. Most models are available as a money-saving kit.
BATTERY CHAINSAW FEATURES
COMPARE CHAIN SAW MODELS
It cuts, cuts and cuts some more. Watch our video to find out how the EGO Power+ chainsaws are built tough to tackle even the hardest jobs.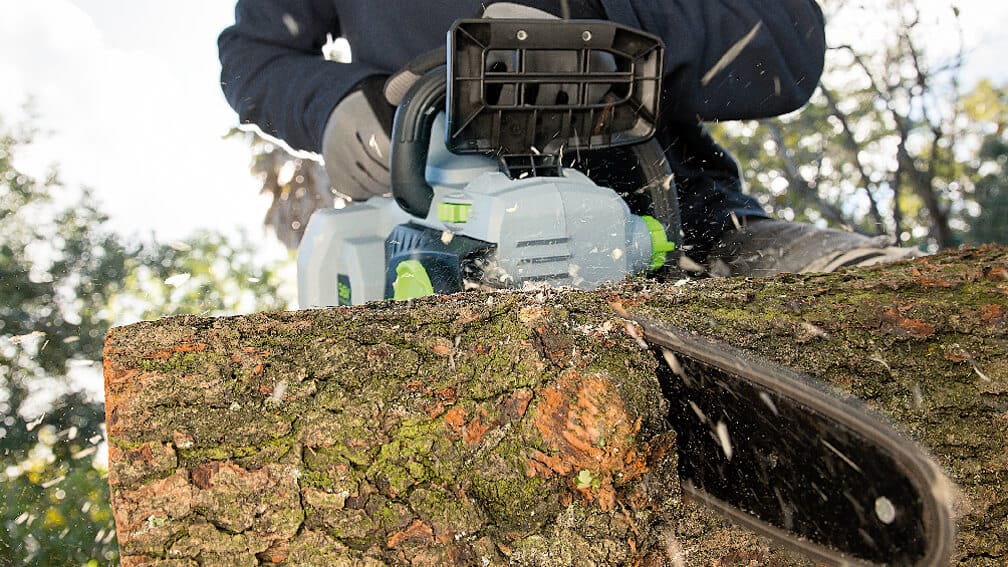 EGO BATTERY POWERED CHAINSAWS
Everyone, from casual gardeners to professional arborists, will find an EGO battery powered chainsaw that suits their needs. Most models are available as a money-saving kit. Watch our video to find out how EGO Power+ chainsaws are built tough to tackle even the hardest jobs.
EGO Power+ Extended Warranty
EGO Power+ products come with extended warranties up to five years when registered within 30 days of purchase. Read our warranty information for more details. 
EGO Chainsaw ease of use

Great saw, so easy to have no engine to start. Cuts very well and the low weight makes it easy to use and great I can use the same batteries as my lawnmower. I also like the fact I don't have to keep any petrol and 2 stroke oil about, so it will always be ready to go. I am impressed by the power cutting upto about 11 inch logs so far in oak and softwood without any issues.

Martin

Well Pleased

I am very pleased with my chain saw. So much easier than using petrol. The battery lasts long enough to finish a job. Recharging is soon done ready to start again. Perfect for my needs.

Old Play

At last a cordless saw that works

I bought this chain saw after trying others that were frankly little more than toys. The EGO actually works like a power saw but is lighter and cleaner. I bought the standard battery and charger and find the battery last about 45 mins to an hour of quite heavy use and an 8 inch diameter log is no problem for it.

Steve

Impressive power & ability

Pleased with the size I bought and it's performance. Power vs battery use is seriously impressive. I am sole trader- clients amazed at its quiet noise- didn't even know I'd started!

Growing Garden

A marvelous addition to my tool kit

My old petrol chainsaw needed a major overhaul when the dealer suggested a battery model. Now I wish I had changed years ago as life suddenly became much easier.

Bristolian

EGO battery operated chainsaw - excellent

I bought this as I was tired of pull cord and carburettor problems with my petrol chainsaw. I have now used the Ego battery operated saw twice and am very happy that I made the purchase. Obviously it starts instantly, and the cutting performance for me (logs up to approx 10 inch diameter) has been excellent. On this early evidence I can recommend the Ego battery chainsaw unreservedly.

Kidcharlemagne

Top of the range battery powered chainsaw

My first purchase of EGO Product. I'd considered buying a petrol powered chainsaw but no! Depending on usage etc, I decided to go for a battery powered version instead. No fuel or 2 stroke oil mixing involved. Saves time and maintenance. Brilliant product!!

Ffenestri Sgwar
Cordless chainsaws - comfort, performance and safety
EGO's range of battery powered chain saws places the power in your hands to get even the hardest jobs done. Powered by our innovative battery, these chainsaws come complete with features that enhance the whole experience, from the clean cuts to the torque.
Features include safe Auto Chain Tensioning, which maintains the correct tension during use. Alternatively, you can opt for tool-free chain tensioning for easy setup and adjustments. The electronic chain brake protects against kickback while you work.
During operation you can also check the lubricant level via the oil inspection window -very convenient! Our chainsaws will lubricate themselves while you work, keeping the chain moving freely at all times. 
And indeed, our batteries pack such power that you can probably keep moving until the job is done. Every model in the EGO chainsaw range weighing in at between 3.8kg and 4.5kg before the battery – light enough to handle, but weighty enough to cut through logs with ease.
We're so confident you'll be satisfied, they come with an excellent warranty.
The power behind our battery powered chainsaws
Our 56V ARC Lithium™ batteries have 40% more power than the leading 40V battery, which makes EGO cordless chainsaws among the most powerful on the market. 
The obvious benefit of using cordless battery-powered chainsaws is you can keep cutting until the wood-cutting and pruning is done, without having to worry about the length and safety of your power cord, or refilling the petrol tank.
Our unique patented 56V ARC Lithium™ batteries provide you with the power you need to tackle any task. They are long lasting and available in different sizes too, so you can choose which battery suits your tasks. Keep Cool™ Technology keeps them working long and hard and prolongs their life, too.
All our batteries are interchangeable across the entire EGO cordless range. As the batteries go up in size, so does the power capacity and run time. 
For example, a 4.0Ah battery can make up to 220 cuts on a single charge - and, at the other end of the scale, a 10.0Ah battery can make up to 600.
A cordless chainsaw to suit every task
Our range has been designed to meet a wide range of requirements, from the needs of a domestic user to the more complex needs of a professional arborist.
For example, our small and powerful CS1400E 35cm chainsaw is a great choice to dispose of medium-sized branches and logs in your garden. It has a respectable chain speed of 13.5m/s, low vibration and weighs only 3.8kg (without a battery).
With an impressive chain speed of 20m/s, the medium-sized CS1610E 40cm chainsaw makes light work of branches and logs that are 40cm in diameter. Speaking of light, at 4.1kg, this cordless chainsaw weighs less than its petrol-powered equivalent (without a battery).
The CS1800E 45cm chainsaw is a step-up in size and comes with a host of additional features. It has a bigger auto-lubrication oil reservoir, for a start, and an automatic chain tensioning system. It has additional safety measures too, plus other helpful features like LED headlights and bumper spikes.
Designed for professional arborists, the CSX3000 30cm top-handle cordless chainsaw (longer chain bars are compatible) is 'best in class' for power and performance. It provides unrivalled performance and ease of cut, whilst benefitting from long run-times and fast recharge. With no pull-cord, there's no need to run the tool in idle, and there's no hot exhaust. 
The top-handle chainsaw's unique Chain-Brake Safety System reduces the risk of injury, stopping the tool's motor faster if kickback occurs. And we've included a host of other useful features that make working at height easier.