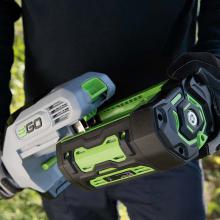 No Loss of Power
Anyone who has used a Nickel Cadmium cordless tool in the past has experienced the dramatic dip in performance near the end of the battery cycle.
Our Lithium-ion supplies power that stays the same from start to finish. With more consistent power you can get the job done faster. To a professional gardener, time is money.
Memory Effect
Older NiCad batteries suffered from 'memory effect'. This happens when a battery will no longer charge to full capacity after being charged and discharged several times.
With our Arc Lithium-ion technology, you have a powerful and long-lasting, high-quality battery that gives you maximum performance.