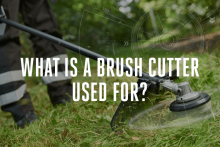 An electric brush cutter is the perfect cordless garden tool if you have an allotment, or you need to control or clear larger areas of overgrown brambles, weeds and shrubs.
They have similarities in design to a cordless line trimmer - they are light, hand-held garden tools. Our models can be fitted to a single or double shoulder harness with hip pad for additional comfort.
Most gardeners have a line trimmer (known colloquially as a cordless strimmer) but there are occasions when a brush cutter is the proper tool for the job.