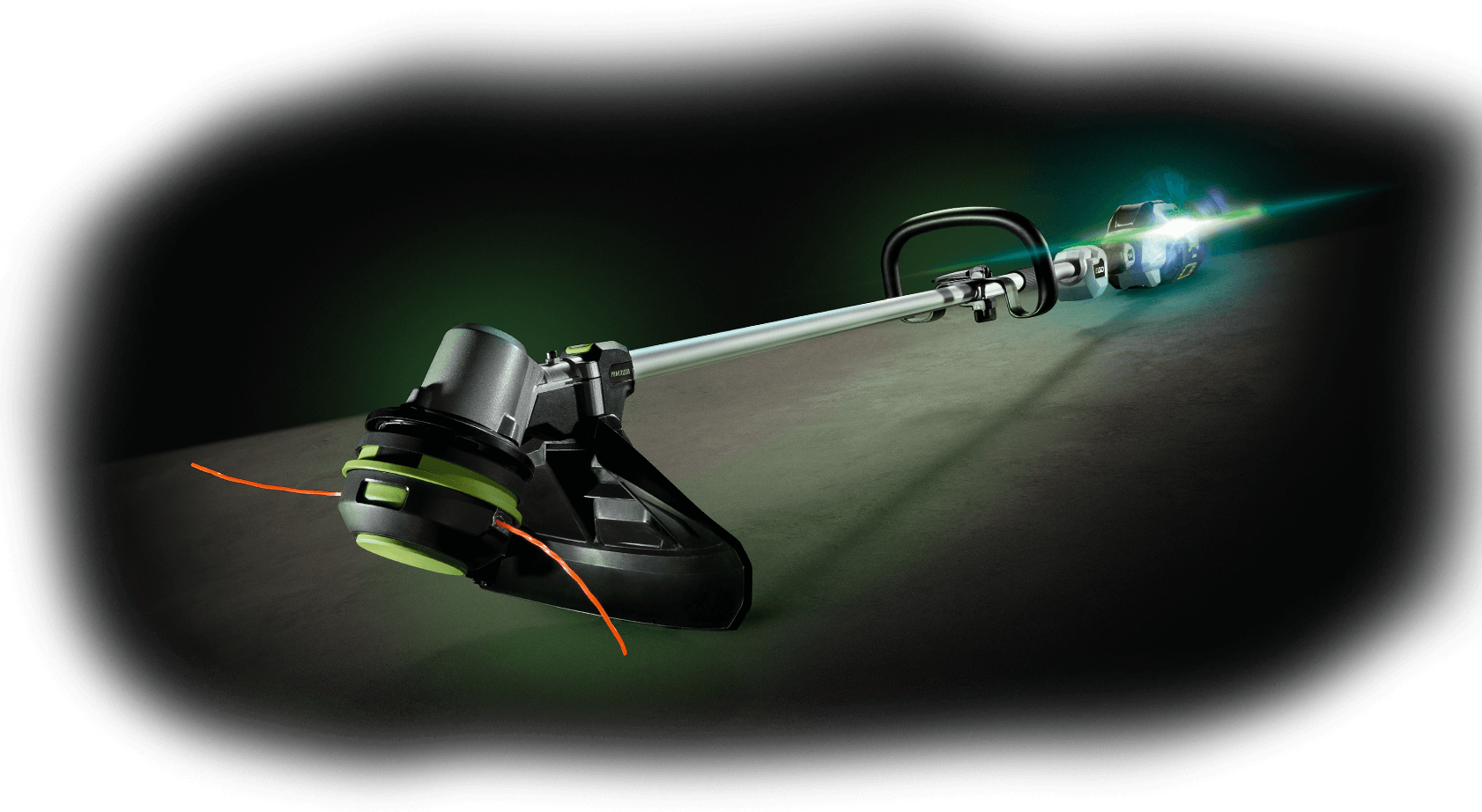 BCX3800
PROFESSIONAL-X BRUSH CUTTER
Our Professional-X bike handle line trimmer/brush cutter gives you the flexibility you need to complete your tasks to a high standard. Have the confidence to take on even the roughest of ground with the ready-for-anything 2KW motor. The cutting width of the line trimmer is 38cm, with the three-sided blade cutting 30cm.
Product Specification
| | |
| --- | --- |
| Voltage (V) | 56 V |
| Brushless Motor | Brushless |
| Blade Type | Tri-teeth |
| Shaft Type | Straight |
| Shaft Material | Carbon Fibre |
| IP Class | IPX4 |
| Harness | Double shoulder |
| Blade Diameter (mm) | 300 |
| Blade Arbor Diameter (mm) | 25.4 |
| No Load Speed (rpm) | 4000-5800 |
| Battery Port | Plug in |
Show all
Full Product Description
The EGO BCX3800 is the tough answer to rough ground, and is perfectly balanced for comfortable use. Light yet strong, the carbon fibre drive shaft won't bend or lose shape over time, keeping vibration levels to a minimum. The tool is versatile, and can be used with either the line trimmer or brush cutter head included, as well as the RTX2300 rotocut, which will take your capabilities to another level. When the line trimmer head is attached, the line is housed inside a manual wind bump feed head. It is supplied with 2.4mm line, but is capable of holding line up to 3mm thick to assist with cutting more stubborn areas.The three-sided steel blade (ABB1203) has a 30cm cutting width, which means you can get closer to hard-to-reach areas which are regular pain points. The tool is fitted with a variable speed trigger which you can control to ensure you're working efficiently and safely. When switching between the line trimmer head and the three-sided blade (or rotocut), ensure to read the manual which can be downloaded below, or found in the box when your tool arrives. It's important to follow the instructions to ensure safe and correct installation. A hip pad (AHP1500) harness is also included in the box to prevent injury or unnecessary wear to your clothing whilst in use. The tool is compatible with the Ego Power+ backpack, and the Pro-X harness – both of which will help to alleviate excess weight of the tool by housing the battery on your back.
Benefits of EGO Power+ Technology
Delivering the power you need, for every job. Our 56V ARC Lithium™ battery is a marvel of engineering that surpasses the competition on every level, and have the capability to out perform petrol. All our 56V ARC Lithium™ batteries are interchangeable across the entire EGO cordless range - so there's a battery for every tool and every job.

As a mature, market-leading company and part of the Chervon Group, we pride ourselves on best practices that ensure our products are of the highest possible standard. In fact, we're so confident in the quality and performance of our tools that we offer industry-leading warranties for tools and batteries purchased by professional and domestic users.

At EGO, we think beyond performance. Our experts are relentless in their drive to innovate tools for a better world. EGO's 56V ARC Lithium™ batteries not only outperform fuel, they are better for the environment. Help us lead Europe to a battery powered future and commit to the smarter, greener way of working outdoors.
Switch to battery and plant a tree all at once.
Or Buy Online
A range of specialist online retailers stock the full range of EGO Power+ products. To visit our UK distributor's EGO website, please see below:
Compare our grass trimmers