Get your hedge into better shape in spring
Regular trimming of your hedge will help it grow well and vigorously, as well as keeping it in good shape. Here are some tips to keep in mind, whether you cut your hedge by hand or use a battery-powered hedge trimmer.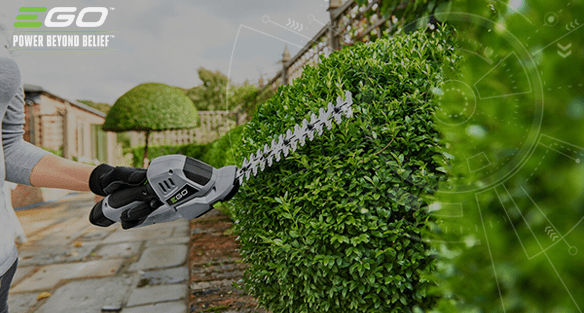 Evergreens grow more slowly and will keep their shape for longer; conifers will need more attention throughout the year due to the speed they grow.

Generally speaking, for all hedge species, you will need to trim them at least once a year in spring to keep them tidy and encourage new growth.

If you like your hedge to look formal - with clean lines and shapes - you'll need to trim them more regularly throughout the year.

Do the first trim after the first flowering - if you try and fit a trim in too early, frost might damage the plant.

A hedge will only flower if it's been trimmed the previous year to encourage bud growth.

Take your hedge species into account - some types respond well to hard pruning, whereas others won't grow from pruned branches.

Evergreens are particularly suited to topiary because they will keep their shape for longer, though you might have to trim more often to maintain the shape.

Check out detailed hedge trimming techniques from the Royal Horticultural Society.

If you want to plant something slightly different, Nature & Garden suggest several shrubs that will make interesting hedges.

Check the ground and hedge for foreign objects that might damage your hedge trimmer.

It's inconvenient, but if you find a bird's nest you'll have to delay hedge trimming until the nest has been vacated in late summer (the Wildlife & Countryside Act 1981 states it's illegal to damage or destroy a nest of any wild bird while it's in use or being built).

For more about attracting, feeding and protecting birds in your garden, see this article on Gardeners' World.

Wear protective goggles and gloves, plus a long-sleeved top to protect your arms from scratches and sap that might irritate your skin.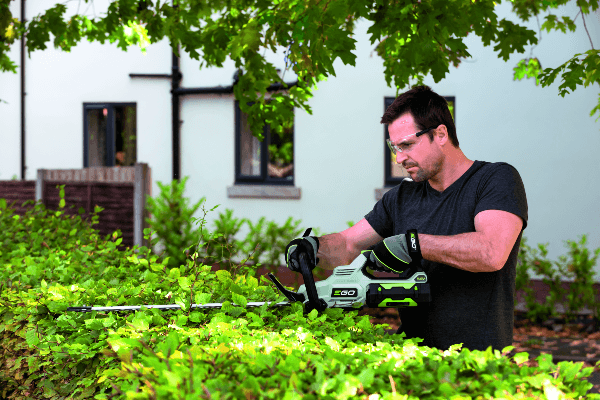 If your hedge is relatively small, you might get away with trimming and pruning using hand shears and secateurs - the sharper the better, to make the job quicker and cleaner. Our cordless shrub shears are also perfect for helping to shape smaller bushes and shrubs, before calling upon the intricacies which secateurs can provide.
Domestic hedge trimmers are worth their money because they give clean lines and make light work of even the longest, most unruly hedge. A battery-powered hedge trimmer offers the freedom and convenience of being cordless. If it's EGO, a single charge will keep going until the job's done - with less noise, less vibration and zero emissions.