1. Safe operation of cordless chainsaws
People who use chainsaws for work need a licence to prove they can operate one safely. You don't need to be certified to use a chainsaw in your garden but there's a lot you can learn from the professionals. 
Several people are killed and many are seriously injured each year while pruning trees and cutting logs. Some of these are domestic users, though many are landscaping professionals who have received training. 
The Health and Safety Executive (HSE) has published a thorough Chainsaws At Work guide, which includes advice such as:
Making sure you're physically fit and mentally alert enough to operate a chainsaw

Buying low noise, low vibration tools (cordless chainsaws easily meet this criteria)

Maintaining your chainsaw for safe and optimal performance 

Using appropriate protective clothing including for eyes, ears and limbs

Assuming a balanced and comfortable position for cutting and using both hands 

Risk assessing overhead power lines, public rights of way and other environmental features

Only using chainsaws from a ladder if you've received training - use a cordless pole saw instead

Transport your tool safely so it doesn't get damaged or harm anyone in transit - our chainsaw bag has an oil tray and scabbard for safe transportation.
Kickback
A common cause of injury is known as kickback, where the chainsaw nose comes into contact with an object. Kickback is "the sudden uncontrolled upward and backward movement of the chain and guide bar towards the operator" (HSE). 
Kickback can be avoided by:
Maintaining the chain brake

Keeping the nose of the guide bar away from obstructions

Not over-reaching

Keeping the saw below chest height

Correct hand position

Appropriate chain speed

A chainsaw fitted with kickback protection
2. Protective clothing and equipment
It's advisable to wear some degree of protection when you're using a chainsaw, even for jobs that you think will be quick. Choose protective clothing of a high standard. Your other clothing should be close-fitting so it doesn't get in the way.
Ear defenders - the professional standard is EN 352-1. We recommend these even if you're using an EGO low-noise battery-powered chainsaw.

Eye protection - either a mesh visor (EN 1731) or safety glasses (EN 166).

Gloves that will protect you from cuts from splinters and thorns. Professional standard chainsaw gloves are EN 381-7.

Leg protection (EN 381-5). 

Feet and ankle protection - gaiters with steel-toe-capped safety boots.
Professional tree surgeons (arbourists) and other landscaping professionals might also wear heavy duty personal protective clothing (PPE) like chainsaw boots, chainsaw jackets and safety helmets. These might not be appropriate for you unless you're using a cordless chainsaw from our Professional range or using your tool for an extended length of time.
Arbourists might also use a battery backpack harness to power their cordless chainsaw. This balances the weight of the battery, making the chainsaw itself lighter and easier to handle. A smaller, domestic battery-powered chainsaw (as in our Power+ range) is light enough to be comfortably used without a harness.
3. Battery powered chainsaws are safer to use
Traditional petrol-powered garden tools are noisy, create toxic emissions, and vibrate at a level which can cause long-term muscular and vascular damage to users. 
On the other hand, some battery-powered chainsaws are designed to minimise risks to users. For example, tests on our cordless chainsaws proves they are quieter, cleaner and vibrate far less than petrol equivalents. They also have a chain brake with kickback protection and auto-lubrication to keep the chain running correctly.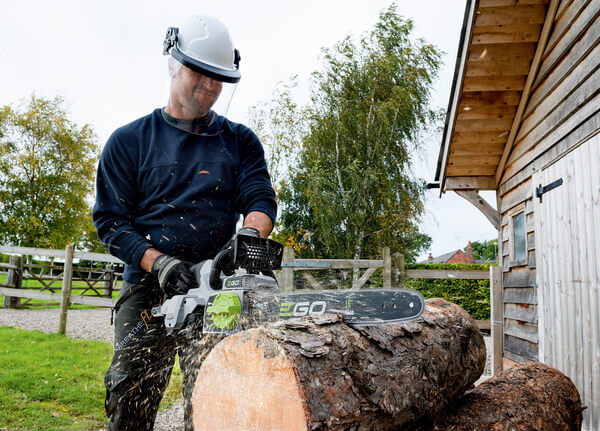 Remember
The HSE says that injuries happen when best practice isn't followed. Even if the job is a quick one and you feel confident that it will be easy, make sure you're fully prepared, protected and have completed a risk assessment before you start.