Chainsaw safety for the professional arborist
Risk of injury is an ongoing concern for professional tree surgeons and arborists. See what innovation is doing to help cut the risks.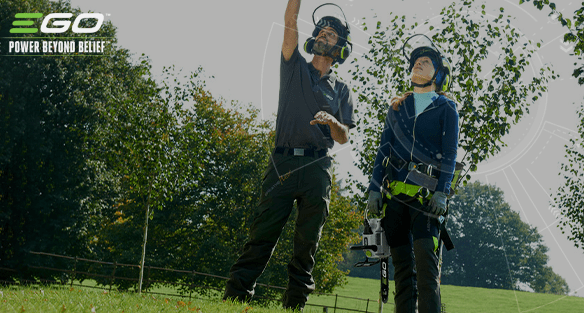 Cordless electric power tools are safer than ever when used in the correct manner, thanks to investment and commitment into research and development.
Our range of cordless chainsaws has something for every type of user, from domestic to commercial. The model that packs the most punch on safety features is the Professional-X Top Handle Chainsaw.
Unique safety features
This professional top handle chainsaw has been designed specifically with the professional user in mind, with a comprehensive range of features to make cutting time easier, more productive, and safer.
1. Chain-brake 
Specifically, this top handle chainsaw comes with a chain-brake safety system that has a unique feature.
The chain-brake system combines mechanical and electronic technology that will stop the motor in a fraction of a second, preventing injury through kickback.
This technology is very advanced and allows safer working at height for arborists, tree surgeons and other groundswork professionals. 
(EGO also has a range of extendable hedge trimmers and pole saws for the cordless multi-tool - useful for difficult to reach high spots.)
2. Gauges
While all our chainsaws come with a gauge to check the oil, this model comes with helpful battery and oil indicator lights that alert you when there's only 10% charge remaining, and when your oil needs topping up. 
This helps you prepare for when you're working at height, so you don't have to be up and down the ladder more often than is necessary.
3. Battery mount
The battery is mounted on the holster rather than on the tool itself, to enhance its usability, ergonomics, balance - and safety. Doing this has taken weight off the tool and optimised its power-to-weight ratio for reliable and safe performance.
Designed with professionals in mind
The CSX3000 doesn't compromise on power, torque and chain speed, making light work of tree care tasks - while giving a genuine petrol-beating performance.
Up to 186 cuts on a single charge (4.0ah battery – provided in the CSX3002 kit)
30cm blade with a 20m/s chain speed
Battery mounted on holster for enhanced usability and safety
Unique chain-brake system to reduce risk of injury 
Indicators for battery and oil levels
Powered an EGO's ARC Lithium 56V 4ah battery 
Amazing three-year warranty for commercial users
Reasons to choose cordless
Battery powered gardening tools are safer than petrol-powered models, and they are cleaner and quieter too. 
The current ARC Lithium battery is a sophisticated piece of technology that's safer for you, as well as safer for the environment.
No vibration - no risk of hand arm vibration (HAV)
Quieter - less risk to hearing, the human endocrine system and brain
No toxic emissions to threaten health and the environment
EGO's professional electric chainsaw range
This chain saw is part of our Professional-X range - battery powered garden tools with pro-standard features and capability.
All tools in the Professional-X range can be registered for our 3-year tool and battery warranty if they are being used in a professional capacity.
The first top handle Chainsaw from EGO is available as a bare tool and as a kit, complete with 4Ah battery and fast charger.