How to choose the right battery for your cordless power tool
All EGO's cordless garden tools will run off any EGO battery - they're completely interchangeable. But here's how to work out which battery gives the best performance for your task.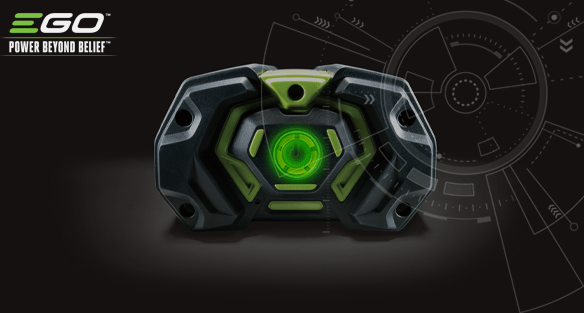 Battery powered garden tools have been ahead of petrol models for some time now. Our EGO Power+ system not only delivers petrol-matching power - it's simpler, cleaner, quieter and vibrates less, making it more comfortable to use. 
Switching to EGO will lead to long term money savings for you as well, and you'll reduce your impact upon the environment. 
With all this in mind, let's look at how you can use our simple, yet sophisticated battery powered system.
Yes, you can use the same EGO batteries with all your cordless power tools
It's a system where our batteries can fit all our tools, which:
Keeps costs down for you
Doesn't require excessive storage
Keeps natural resources involved in battery production to a minimum.
For extra running time, simply choose a more powerful battery. They range from 2.5Ah to 12.0Ah.
How to choose the right battery for the job
When choosing which battery to use on your EGO tool, consider:
The size of the area you need to work on
How long you need the power to last
If you want the battery to last throughout multiple jobs
The maximum weight you're happy for your tools to weigh (we do also have backpack batteries to spread the weight of the tool)
You can find running time information on the product specification, which will give you a full range from the 2.5Ah to the 12.0Ah battery.
Should I use a smaller voltage battery for a less demanding task?
A big voltage doesn't necessarily mean big power — there also has to be enough current (and vice versa). 
Our 56V batteries deliver more usable power than any other hand-held battery -  in fact, they deliver as much as a traditional 80V system. However, an 80V system can't achieve the same usable power as a 56V system because the required battery would be too big and heavy to use.
Current depends on the cell types being used, the condition and quality of the cells, plus the control system that manages them.  
Our batteries provide the best balance of voltage and current to deliver the right power and run time for any task. Also, they're designed to manage and deliver this power efficiently for each specific tool. 
Ultimately, the 56V system gives higher flexibility in terms of battery weight and cost (for example, compared to an 80V battery). Even the biggest 80V solutions are underpowered at the top range (and overpowered for pretty much everything else). 
Inside the battery: how we maintain high performance
Our Battery Management System constantly monitors and optimises each individual cell, so you always get the very best power, performance and run time. This includes monitoring cell temperature and voltage.
Keep Cool™ Technology actively absorbs heat naturally generated when the battery is in use to keep individual cells at their optimum temperature for longer, while increasing battery life.
Battery-powered garden tools are the future
The EGO Power+ system delivers petrol-matching power but it's simpler, cleaner, quieter and, with less vibration, more comfortable to use. 
Switching to EGO will lead to long term money savings for you, because our batteries are longer lasting and our tools have to lower running and maintenance costs. They're so reliable we offer exceptional warranties for domestic and professional customers.
You'll reduce your impact upon the environment by using EGO too - zero emissions during use.
You can learn more about the science behind our rechargeable battery technology for garden tools by reading our battery performance page.