Leaf blower versus multi-tool bristle brush
Clearing fallen leaves and other garden waste is a breeze for EGO's battery-operated appliances - but which is best?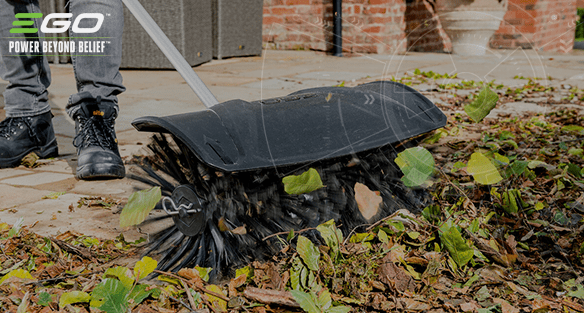 As any good gardener knows, a bad worker blames their tools (but a smart one uses the right tool for the job).
A leaf blower is ideal for shifting dry leaves and other loose waste, while a bristle brush is best for wet leaves, moss and ingrained dirt.
But it's not as straightforward as that - here we'll highlight exactly when to use which appliance and how.
Which leaf blower should I use?
The EGO range of battery powered leaf blowers comprises individual products to suit spaces of any size, plus kits with batteries and chargers for added value.  
Selecting which blower best meets your needs depends on several factors such as battery life, weight bearing and power.
Backpack leaf blowers
The perfect piece of kit for professionals - ergonomically designed to be operated in complete comfort.
By accommodating the main weight across the shoulders and back, arms are kept freer to move and adjust as required.
This results in more directed precision clearing, even over the longer periods necessary to properly take care of larger open spaces.
And for even greater accuracy and control, our range of backpack leaf blowers includes models boasting features such as:
Variable speed settings to suit different conditions
Adjustable blower tube length
Flexible bellows tube for greater movement
Adjustable handle
Long life batteries and rapid charger units for extended use
Handheld leaf blowers
More compact than backpack units, handheld leaf blowers are ideally suited to medium sized garden areas.
Their smaller size suits more limited tool shed space without sacrificing performance as they pack the same power as most equivalent petrol products.
Thanks to easy-to-use variable speed controls including boost for extra force, their output is entirely flexible depending on the work required.
EGO's battery-operated leaf blowers are also kinder to the environment, thanks to their superior energy efficiency and zero emissions.
And they're also gentler on the operator too, proven to reduce risk of carpal tunnel syndrome, hard-arm vibration and vibration white finger.
Use battery powered handheld leaf blowers to clear leaves from paths and guttering, as well as to remove excess dry grass from your lawnmower.
Multi-tool bristle brush
In situations where garden waste is too wet, heavy or ingrained for a leaf blower to tackle, the EGO multi-tool is up to the task.
Using the bristle brush attachment, you can enjoy up to 160 minutes of run time from one charge, depending on power output.
That's plenty of time to remove even the most stubborn grime from paths, driveways, patios and decking.
Compared to an obvious pile of leaves that a leaf blower will quickly get rid of, you may not notice a buildup of dirt, leaf mould, moss or lichen over time.
But once you've cleared it away using a bristle brush, the difference will be as clear as the end results.
And to efficiently remove snow and water, why not consider a separate paddle broom attachment that can be easily used with this tool.
Tool care guidance
Whether you opt for a leaf blower or the bristle brush (or both, for comprehensive clearing all year round), caring for them is important.
Always make sure tools are clean and dry before storing to ensure continued optimum performance.
For detailed operation and maintenance information, always refer to our handy manuals and safety sheets section.