Mowing tips for ride-on mowers
Tips for getting the most from your zero-turn ride-on lawnmower, including safety, lawn length, care while cutting, and using a ride-on mower on a slope.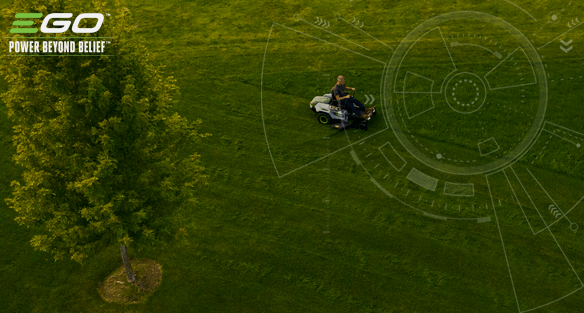 In the month we launch our Z6 Zero-Turn Ride-On (ZTR) mower in the UK, it seems like a good idea to look at professional tips for getting the most from your equipment.
Ride-on mower top tips
Safety
Always read your manual thoroughly before first use and while you're becoming familiar with it.
The manual for Z6 Ride-On is available on the Z6 product page, along with the battery calculator.
Tips
1. Before the cut
A sharp blade will greatly enhance the performance of the mower, especially when cutting tall grass.

Verify that the lawn is free of stones, sticks, wires, and other objects which could damage the mower's cutting blades or motors, or cause injury or property damage by being thrown.

Remove potentially hazardous objects like tree limbs.

If you strike a foreign object, stop the motor and remove the batteries. Thoroughly inspect the mower for any damage and repair the damage before restarting and operating the mower.

Excessive vibration of the mower during operation is an indication of damage. The unit should be promptly inspected and repaired.
2. Lawncare
You'll get the best results with a high cutting blade speed and low driving speed. If the grass is not too long and dense, the driving speed can be increased without negatively affecting the mowing result.

When cutting heavy grass, reduce the driving speed to allow for a more effective cutting and a proper discharge of the clippings.

Begin with a high cutting height and reduce it until the desired mowing result is attained. Grass over 6 inches (15cm) long should be mowed twice, at successively lower cutting heights.

To maintain a healthy lawn, cut off only one-third or less of the total length of the grass.

In cool months, the average lawn should be approximately 1.5 to 2 inches (3.8cm-5.cm) long.

During hot months, the average lawn should be between 2 to 3-1/4 inches (3.8cm to 10cm) long.

For healthier and better-looking lawns, mow more often after moderate growth.
3. During the cut
New or thick grass may require a narrower cut or a higher cutting height.

Don't cut wet grass as this can cause loss of control and the ride-on lawnmower's wheels to sink into the soft lawn, causing damage.

Wet grass will also stick to the underside of the deck and prevent proper bagging or mulching of the grass clippings.

Keep the mower deck and side discharge chute clean. Remove grass clippings, leaves, dirt, and any other accumulated debris before and after each use. See the cleaning section of your manual for more details.

When the mulching plug is used, it is important to mow frequently.

Watch for holes, ruts, rocks, hidden objects, or bumps which can cause you to slip or trip. Tall grass can hide obstacles.

Do not mow near drop-offs, ditches, or embankments.

Drive slowly and do not make sudden changes in speed or direction.
4. Mowing on slopes
Be cautious when operating on slopes, which are a major factor related to tip-over and roll-over accidents that can result in severe injury or death.

If you feel uneasy on a slope, do not mow it. For your safety, do not attempt to mow steep slopes greater than 15 degrees. See the manual for more details, including instructions on how to assess the incline.

Mow up and down, not across the face of slopes.

Avoid stopping on a slope if possible. If stopping on a slope is unavoidable, make sure to engage the parking brake. When restarting, use the lowest possible speed.

If turning on a slope is necessary, exercise extreme caution when changing direction and always turn downhill.

If using the optional bagger, use extreme caution and operate the mower slowly when operating on slopes, as bagging can change the stability of the mower.

If at any point the tyres lose traction while operating on a slope, disengage the blades and proceed slowly and carefully straight down the slope.
EGO's Z6 Ride-On mower
Available from a local accredited dealer near you, the Z6 is the world's first zero-turn ride-on mower that is compatible with EGO's award-winning battery system. It can be powered by any combination of EGO 56V ARC Lithium batteries - we can help you calculate the batteries you'll need to complete a single charge mow, so you can tailor your purchase to your exact requirements. You can find this on the product detail page.
Included in the Z6 kit is the industry's fastest 1600W charger, which can charge up to 6 batteries at the same time, up to 4x faster than any other ride-on.
Speaking of speed, the Z6 reaches a top speed of 8MPH and will cover up to 3 acres on a single charge with six 10Ah batteries. And the warranties for domestic and professional users are fantastic.