Spring is the perfect time to establish a neat lawn edge
If your lawn edges have taken a pounding over the winter months, spring is the ideal time to re-restablish neat boundaries.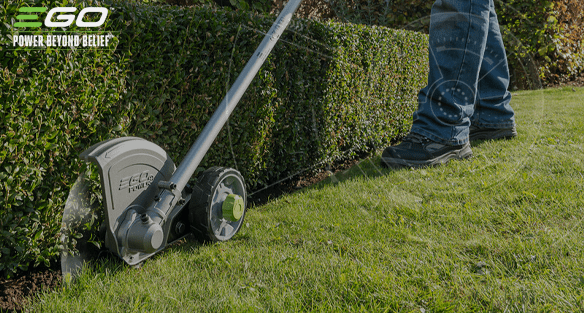 If the edges of your lawn have taken a pounding over the sodden winter months, spring is here to set them straight, and re-establish neat boundaries. This prepares the way for light maintenance for the rest of the growing season. 
Should you be new to gardening and haven't used a garden edger on your lawn before, the objective is to give it definition and clean lines. A lawn that spreads year after year will not only encroach onto flower borders and pathways or driveways, it affects the way your home and garden look. 
Tools for edging a lawn
You've got a range of tools to choose from:
The spade option, with help tidying up from a line trimmer, is physically more demanding and time-consuming. Also, it's more difficult to get a good, clean edge. 
Petrol garden tools have historically been favourites for performance, but that has changed - innovation with cordless rechargeable batteries has produced proven petrol-beating performance - without the fumes, noise and vibration.
An electric lawn edger (cordless) is suitable for small and large areas, but certainly much more convenient for larger areas because you don't have to worry about power cables being long enough or getting in the way. 
How to edge your lawn using a cordless lawn edger
Pre-flight checks
A cordless lawn edger tool is very easy to use, with on-board guides to line up your cut. However, as when handling any power tool, you do need to do some preparation.
You'll get best results when the grass is dry. Avoid edging in wet soil or wet grass areas, which might cause the blade guard to clog and result in an uneven edge.
Check your battery is charged. An EGO 56V 5.0Ah battery will give you up to 60 minutes edging time and can be recharged in 40 minutes with a rapid charger. 
Check for wear and tear of the blade. If you need to replace it, contact your nearest dealer for a replacement part.
Safety first - wear eye and ear protection. While our cordless garden tools are significantly quieter than their petrol equivalent, we would still recommend looking after your hearing. Safety goggles or glasses with side protection should also be worn in case of flying debris which may be uncovered during use. 
Also on safety - wear good boots, long trousers and make sure people and pets remain at a safe distance in case debris is thrown up.
Walk your course and remove any stones or other obstacles.
Using the lawn edging tool
Hold the edger with your right hand on the rear handle and your left hand on the front-assist handle. Keep a firm grip with both hands while operating and hold it at a comfortable position with the rear handle at about hip height.
The EGO lawn edging attachment for the multi-tool comes with a guide line on the wheel casing to help you get a straight line, plus a removable edge plate underneath. These will help you set and stay on course.
Push the edger forwards only, only going as fast as it needs to make a clean cut - usually, normal walking pace, but no faster. If the blade begins to bog down, you're edging too fast - slow your pace.
If the blade guard becomes clogged, stop the motor, remove the battery pack, and remove debris from the blade guard.
Our cordless lawn edger tool will cut to a depth of 75mm. You can easily change the depth by loosening the depth-adjusting knob and moving the guide wheel.
If you're edging a lawn for the first time, the edger won't have a problem with this bigger job, though you will have to remove the excess soil and grass by hand or with a spade afterwards.
Check your manual for full information on safe and correct operation, cleaning and storage.
The only thing that makes edging a lawn with a cordless power attachment even easier is the shoulder strap. It helps you balance the tool and takes some of the work of handling it - a useful accessory for long edges around larger gardens. The multi-tool and edger can be bought in a set with a host of other cordless garden essentials, or on its own.