The optimal technique for all blower tasks
This handy tool makes gathering fallen leaves and clearing paths so easy. Here's a heads-up on what it's good for and getting the most out of your battery powered blower.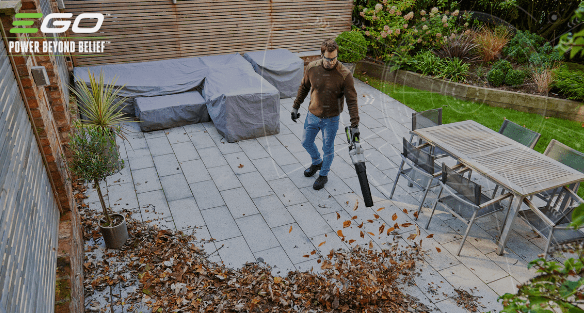 It's a simple tool, easy to handle, and it does an otherwise laborious task (raking and sweeping) in a fraction of the time. It's the kind of tool that you know instinctively how to use - point and blow! You even use it one-handed.
However, there's always a tip to be had for even the easiest jobs - and here are some of ours.
1. Where you can use your blower
Lawns

Paths and pavements

Patios and driveways

Garage floors

Guttering

Close to flower borders

On hedges and shrubs
What to use your blower on
Dry fallen leaves, cuttings, grass and soil

Damp fallen leaves, cuttings, grass and soil

Loose snow
2. Choose the right speed setting
The high powered brushless motor delivers high air volume and speed, but with much lower levels of vibration and a lot quieter than petrol-powered equivalents. The EGO battery powered blowers can clear up even the biggest windfall.
This makes variable speed a great idea - and makes the variable speed trigger your best friend - so you can match the effort to the task and stay in control at all times. 
Low
Low speed, low volume airflow is ideal for delicate areas close to flower beds, patio furniture, sheds/garages, ponds, and vehicles, for example.
The low setting allows you to usher the airflow with care around obstacles that might otherwise be compromised by a higher setting.
High
High speed, high volume airflow is your choice for hard-to-shift wet leaves and other detritus. 
Turbo 'boost' mode
Sometimes you need more oomph.
With the LB6000E-K1103, for example, boost mode provides a massive 1220m3/h of air (over 30mph) just when you need it.

This is advanced aeronautical technology that runs a turbo fan to give you additional power to get things moving.

Higher speeds will drain your battery faster – think about your tasks and how you can vary your speed to conserve battery.

If you leave the blower in turbo mode for too long, the battery will eventually shut itself down to cool off – Turbo mode is there for quick tasks when you come across more stubborn bits of debris.
3. Handling and accessories
Weight & Handling
Some blowers are light enough to be used single-handed - the LB5301E cordless blower kit weighs only 2.2kg without a battery. They're also compatible with our EGO Power+ backpack which puts the additional weight of the battery onto your back to help keep the weight off your arms.
Battery backpack
Heavier commercial models like the LB6000E leaf blower, which weighs 5.7kg without a battery, is designed with a backpack integrated (also included in a cost-saving kit).
The backpack really makes a difference during long, continuous periods of use, for example if you're clearing a public area.
Buying the right battery powered blower
Our blower range includes battery powered blowers for domestic use (for gardens and allotments) and models suitable for commercial use (parks, sports grounds). Browse the full range of cordless leaf blowers and discover more about our warranties.