Your final lawn mow of summer
You've been diligently mowing the lawn every week all summer long, so you might almost be welcoming winter! But there's just one more - very important - mow to do.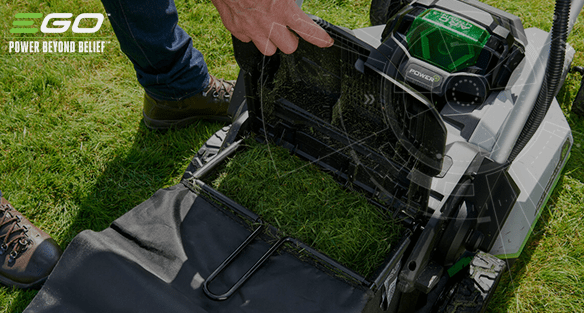 Just as the first mow of the year is important to get right, you'll thank yourself for getting the last mow right too. 
It'll get your lawn ready for the long sleep over the cold months and keep it in good condition until it's ready for growing again.
When should I do my last mow?
You need to cut your lawn while the ground is still dry and preferably before the frost arrives. Continue mowing the lawn every week or two weeks until the grass stops growing.
When does grass stop growing?
Sometimes we get a burst of unseasonably warm weather or a generally mild winter.
Grass generally stops growing at temperatures less than 5℃ (41℉). So, your lawn might still experience growth - which means, you might have to make a 'second last' cut or even a third.
How to do the last mow before winter
Your regular mowing throughout the summer will have kept your lawn healthy. Regular mowing means you cut the grass height down gradually (never more than a third of its height at a time). You might also have fed and watered your lawn. 
How you've cared for your lawn means you can afford, now the blazing sun has eased off, to cut your grass a bit shorter.
If you cast your mind back to our advice for your first mow of the year, that was all about leaving the lawn a bit longer. 
For the last cut of the season, you can adjust your cutting height to one of the lowest settings - probably around 20mm. 
This allows your lawn some leeway on growth - so even if temperatures exceed 5℃ for short periods, your lawn will still look neat and tidy and won't need a cut.
What if it's warm enough for the grass to grow?
If you do experience warmer temperatures and need to mow your lawn over the winter, do it on dry days without a frost. If the ground is damp, you might damage the lawn.
When conditions are right, adjust your mower blades to the highest setting (EGO's battery-powered lawn mowers have a cutting range of between 20mm to 95mm, depending on the model).
Last mow: summary
Mow while the ground is still dry and before frost
Set the cutting height to 20-30mm (higher for cuts during winter)
Autumn lawn care tips
You can do a couple of maintenance jobs now to ensure your lawn stays healthy over the winter - and is also in good shape for the spring.
Lawn mower care tips
Lastly, this is a good time to check the health of your garden tools too. Your cordless lawn mower in particular has seen some action over the last few months. 
We give excellent warranties on all our products because they're robust and long-lasting. However, even the best tools need regular maintenance. 
Get your EGO lawn mower services at your local dealer. As well as sharpening your blades and other general maintenance, your dealer has a diagnostic tool to check battery performance.