What is mulching (and why you might try it)
A beginner's guide to mulching - what it is, how it works, the benefits and pitfalls, and how you can try out mulching for yourself.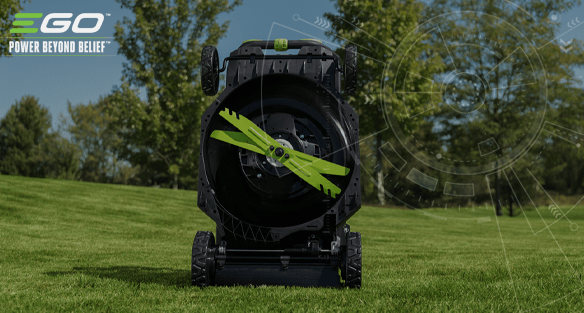 'Mulch' as a word sounds a bit squelchy and messy too, but in fact it's the
The purpose of mulching a lawn is to reuse its own clippings to feed and protect it. If you're interested in sustainable gardening practices, it's an absolute must.
However, many people also love mulching because it helps them mow their lawn more quickly and there are no grass cuttings to dispose of separately.
What is mulching in lawn care?
It's the creation of smaller particles of freshly cut grass, which are re-distributed on the lawn. This provides critical nutrients that keep it healthy and looking good.
As well as releasing essential nutrients, the mulch protects a lawn against drying out and getting weedy. It's also a clever way of processing and disposing of grass cuttings.
The mulching process
Mulching occurs by capturing the new grass cuttings within your lawnmower body - before they are deposited on the lawn or fired into the collection bag.
These cuttings recirculate within the body of the lawn mower (known as the deck), where they are cut again into finer lengths by a curved mulching blade, then deposited onto the lawn.
What nutrients does mulching add to my lawn?
Lawns need a combination of nitrogen, phosphorus and potassium to stay healthy. As well as mulching occasionally, you'll probably also need to feed your lawn about once a season - check out our guide to lawn care in summer.
Nitrogen grows strong shoots and dense growth
Phosphorus grows a strong root system
Potassium helps the grass stay healthy
Do I need a mulching lawnmower?
You might not need a specialist mower, though you might need a specialist mulching kit, which isn't expensive at all. Lawn mowers that mulch are available as petrol-powered (with all the downsides of this) and battery-operated (cordless and electric).
Mulching lawn mowers have a more pronounced domed deck and the blades are curved. While they are a specialist piece of equipment, you can actually use them all year round. However, your grass needs to be in good condition and there are other factors to consider - see below.
Alternatively, some mowers can be fitted with a mulching kit. A mulching kit comprises a mulch plug, which slots into a shaped fitting in the rear of suitable mowers. This plug prevents the grass shooting through into the collection bag.
A standard mower blade tends to be straight. A mulching mower blade is curved, which recycles the grass cuttings within the mower deck until they are small enough to be scattered. It's easy and quick to replace a standard mower blade with a mulching blade, and back again.
EGO lawn mowers and mulching
All our lawn mowers (including our zero-turn ride-on) have mulching capability. Mulching kits are available to purchase separately for all mowers except the LM2020E-SP, which comes with a mulching plug only (blade available separately).
Our available mulching kits are for each mower as follows:
Our Zero-turn Ride-on Mower, the Z6, comes complete with a mulching plug and doesn't require a mulching blade.
Mulching versus bagging your lawn clippings
Some people find they're able to mulch all year round and that suits their lawn. However, most people will find, even if they become a huge fan of mulching, they will still want to alternate with bagging.
Bagging
Can mow when wet
Removes all cuttings
Removes other debris
Clippings can go onto the compost heap
Mulching
Can't be done wet or on long grass
Lawn shouldn't be struggling to start with
Slows down the mow speed
Speeds up the mow time (eliminates disposal time)
Recycles cuttings into lawn food
Mulching tips
Mulch for the first couple of mows of the season and see what happens
Mow once a week during growing season (see our summer lawn care guide)
Mulch when the sun is high and hot to stop it becoming parched (hold the ground moisture in).
Don't mulch when the grass is wet or after you've watered it.
Don't mulch grass that's too tall - it might create too much mulch
Similarly, don't cut grass too short when mulching (and remember the rule about not cutting more than a third at a time).
Sharpen your mulching blades (or ask your dealer to ensure correct blade balance) and replace the blades often.