Eco-friendly lawn care for green gardeners
The 'perfect lawn' used to be considered as one that was aesthetically pleasing - level, even, with defined edges and which was diligently mowed to an exact height. Does this image hold true for the 2020s?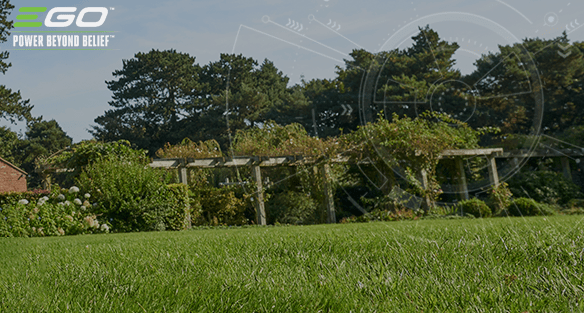 Organic and wildlife-friendly gardening
Interest in rewilding and more natural gardening practices is growing and this encompasses lawn care. 
You might have stopped using powerful weed killers on your driveway, established a compost heap, and researched using grey water on your garden in the summer months. But your lawn care can also become more environmentally friendly.
Don't worry that it's a step too far: it doesn't mean letting your lawn go to rack and ruin - you can still use your battery mower.
The benefits of an eco-friendly lawn
Better for insects
Insects are critical across all ecosystems as food, pollinators and recyclers of nutrients. However, more than 40% of insect species are declining and a third are endangered, according to a study on biodiversity.
Better for birds
What's better for insects is better for those who eat them. The annual RSPB Big Garden Birdwatch in 2021 revealed that 16 of the top 20 small garden bird species have significantly declined in numbers since 2020. Over the last 50 years, 40 million birds have left the UK's gardens. 
Better for wildlife
Figures from The Wildlife Trusts show that numbers of hedgehogs, bats, sparrows, song thrushes and stag beetles are falling, and this is just a snapshot of declining numbers. 
Better for humans
More environmentally friendly gardening means no handling and storing of harmful chemicals. If you have a vegetable patch or fruit trees, chemical-free growing means your harvest will be safe to eat.
How to achieve a more eco-friendly lawn
1. Embrace clover
Clover can be a problem if you don't want it. It's generally too short to mow and a pain to get rid of if you don't want to use weed killer.
From a different perspective though, a clover lawn is attractive - beauty is in the eye of the beholder, after all. And clover helps to support a strong natural garden ecosystem, especially bees. 
You can sow microclover or Dutch (dwarf) white clover into your lawn if you're not lucky enough to have any. You'll find it feeds your grass with nitrogen and makes it more robust so that, even in the summer, it's less likely to suffer from heat and water stress.
2. Take advantage of dandelions
Weeds like dandelions are persistent pests in a neat garden. However, letting them flourish during spring provides bees with a welcome source of early food, and you can cut them down before they start to seed. 
They are notoriously difficult to get rid of, thanks to their deep tap roots, so you might even consider letting them have their way. They provide nutrition for your lawn, even helping improve areas with poor soil conditions, plus dandelion leaves are a superfood packed with nutrients and can be eaten in salads.
However, if you pull them out by the root, you can make a lush fertiliser for your lawn. Dandelion roots are high in potassium and a rich, sustainable and ethical source of phosphorus. Soak the roots in water for a couple of weeks (you can add other weeds too, like nettles) then water onto your lawn.
If any root remains in the depths of your garden, you'll likely see it again next year. Though now you know how useful it is, you might not mind.
3. Use your lawn mower judiciously
By the time spring has sprung, temperatures will have risen sufficiently for your lawn to start growing. Is it time for the first mow? If so, don't forget to set your cutting height at its highest for the first time, and leave the cuttings on the surface to feed the lawn in preparation for the growing season.
If you're a hardcore weekly mower, you'll be aware that keeping the grass short keeps weeds in check. However, if you do decide to let the grass grow higher, weeds and all, you might be surprised at the variety of plants that live alongside your grass. 
You might decide at points to give the mowing a break, or only mow certain parts of it (making patterns and pathways) and let remote areas grow wild for the summer. 
So-called weeds do help nourish your lawn at the root level and, if you do let them grow, they add a support network for insects, birds and other wildlife. 
4. Choose an eco-friendly cordless lawn mower
If you are interested in eco-friendly gardening, a cordless lawn mower is a great choice, especially if a manual lawn mower is out of the question (for larger lawns or if you prefer not to get so physical). 
EGO's cordless lawn mowers are powered by our unique patented ARC Lithium 56V battery and emit no fumes, have less vibration and are quieter than petrol equivalents - better for your garden, the environment and you.
Our LM1701E cordless mower has just been named as a Best Buy by Gardener's World, which notes its seven cutting heights and large capacity bag.
Cordless tools and eco credentials
Find out more about our strong commitment to environmentally friendly practices and cordless garden tools.