How to do lawn stripes with your battery mower
It's fun to do, it looks great, it's good for your lawn - and you can do it with or without a rear roller kit. Here's our take on doing lawn stripes.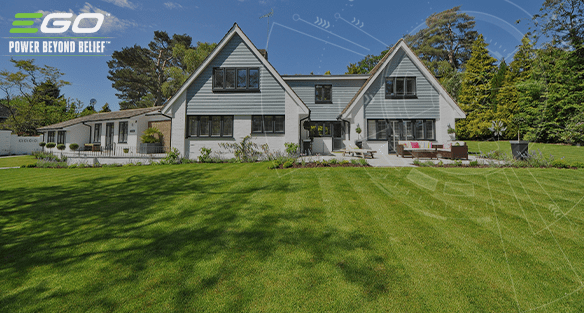 Even if, aesthetically, stripes aren't your cup of tea, with a bit of practice and planning you could have wavy lines, labyrinthine patterns or even a mandala on your front lawn. 
And there's the potential to use your lawn for meaningful dates, too: a heart for Valentine's Day, a sunburst for the longest day, a special birthday number… 
We're going to talk mainly about stripes here but the list is endless.
How to do a striped lawn
You create a pattern on a lawn using your cordless, battery powered mower to lie the blades of grass in ways that reflect sunlight differently. This is achieved by:
Mowing in different directions to create a contrast of light and dark.
Rollering in the direction of the cut to make sure the blades of grass stay put.
Health & safety
Make sure your ARC Lithium 56v battery is fully charged before you start. EGO batteries have petrol-beating power and excellent run times, so make sure you take full advantage of this.
Read your lawn mower manual - you can download the relevant EGO battery powered lawn mower manual for free at any time from our manuals and safety sheets page.
Don't forget your PPE - wear safety glasses, boots and appropriate clothing.
Check your lawn for debris, stones, sticks, dog toys and other objects that will get in your way or pose a hazard.
Attach your rear roller kit to your battery mower. This is the easiest way to create stripes, although it is possible to make a striped lawn without one (see further on).
Step-by-step 

1. Cutting height
Check your cutting height - is it at least 30mm? If you're mowing in the height of summer, a too-short cut risks dehydrating your lawn, so it's a good idea to leave it longer. When you're creating a striped lawn or pattern, the contrast of light and dark is more pronounced if the grass is a little longer, too.

2. Start cutting
If your lawn is a rectangle or square, start in the bottom left corner and mow up. At the top, raise your blades (so they don't cut) and turn the mower. 
Drop your blades again to the desired height. Proceed by overlapping your cut slightly, for a clean finish, and mow down. Repeat.
Many of us have odd-shaped lawns. You'll get the best effect by mowing a guide-stripe down the centre of your lawn and working out from this. 

3. Check clippings
Empty your grass clippings often to keep your pattern clear and defined. Mowers have different sizes of collection bag, so there's no hard and fast rule - just keep an eye on it. 
Some EGO cordless mowers have full-grass indicators on the collection bag. The indicator will close when the bag is full of clippings, so you know when it's time to empty. Read your product manual to see if your mower has this functionality.
Rear roller kits for electric (battery) lawn mowers
These are the easiest way to get good results. EGO have rear roller kits which are compatible with specific mowers:
AR1700 rear roller kit fits the LM1700E and LM1700E-SP mowers. 
AR1900 rear roller kit fits the LM1900E-SP mower.
Both rear rollers can be used at the same time as you cut - they fit their mowers at the same time as the collection bag. 
They don't negatively affect the performance of a battery-powered EGO cordless lawnmower either.
Can you do a striped lawn without a rear roller kit?
Yes, you can! 
Mow as above in alternate directions.
Turn off your mower if it's a manual lawn mower. However, if it's self-propelled, like many EGO lawn mowers, keep it turned on but raise the blades to the max height so they don't cut.
Push the mower up and down your lines in the direction you mowed to make sure the blades of grass are flattened.
Are there benefits to having a striped lawn?

Some gardeners say that a striped lawn helps to strengthen a lawn's condition because the grass leans in different directions. 
This allows sunlight to permeate, air to circulate, and rain to fall where otherwise it might not have the opportunity to - that is, if your blades of grass are all leaning in the same direction or clustered too closely together.
Also, a striped lawn looks at its best when it's been left at a taller height. This in turn allows for better biodiversity in your lawn - microclover and other nutrient-rich plants can thrive, as well as insects.
Our range of battery lawn mowers incorporates many different cutting heights to suit every purpose. Depending on the model, cutting heights run from 20mm to 95mm (from less than an inch to around 3.7 inches).
What are the drawbacks?
It takes more time and physical effort.
If you're planning a more elaborate pattern, it will take even longer.
Think about maintenance too - making stripes in the same place repeatedly throughout the summer will create grooves in your lawn, so vary their position.
For the best results, your lawn needs to be in excellent condition before you start - well fed, well watered, aerated (scarified), moss-free and fairly level. 
Read more tips to improve the overall health of your lawn during summer on our recent 'Lawn care in summer' guide.
If you're interested in more environmentally-friendly lawn care tips, see our guide on 'Lawn care for eco friendly gardeners'.