Get ready to rotocut driveway weeds down to size
A rotocut will help you cut weeds down on hard surfaces like paths, patios and verges too, easily and effectively.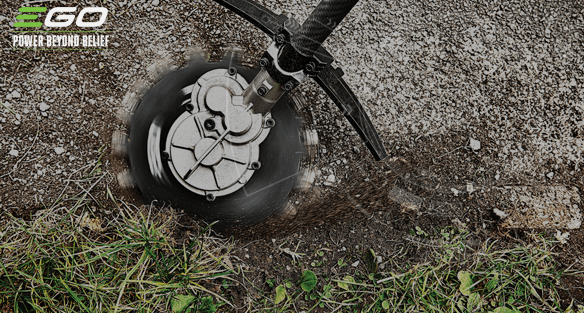 Do you use a spade or a line trimmer (strimmer) to demolish the weeds on your driveway? It's a satisfying job, especially using a cordless garden power tool, but there's a better way to cut weeds down to size.
In fact, a rotocut will help you cut weeds down on hard surfaces like paths, patios and verges too, easily and effectively. This unique tool has been specifically designed to cut weeds, moss and grass close to the ground, in a controlled way that doesn't throw debris around. Very useful if you have vehicles and other areas of your garden that you don't want to damage with flying debris.
A flexible and user-friendly cordless garden tool
This is a multi-tool attachment, so it works with the same power head and battery as your other multi-tool attachments (like the lawn edger, hedge trimmer and pole saw). 
The rotocut has a cutting width of 23cm and runs at 450rpm cutting speed. It works with two counter-rotating blades to ensure low throw, so it's safer to work in smaller, more confined areas and places in close proximity to vehicles and other objects.
Safety checks
Like all EGO tools, it's been designed for ease of use. However, as when handling any cordless garden power tool, safety first!
First, check your battery is charged. An EGO 56V 5.0Ah battery will give you up to 52 minutes' rotocut time and can be recharged in 40 minutes with a rapid charger. If your battery isn't fully charged, you can plug it in while you complete the following safety checks:
Walk your course and remove any stones or other obstacles in your path which could cause damage to the tool or jeopardise your safety and the safety of others.
Check for wear and tear of the blade and other parts. If you need to replace it, contact your nearest dealer for a replacement part.
Wear safety glasses and ear protection. EGO tools, which are powered by efficient batteries, don't emit excessive noise or vibration like a petrol tool would, but we would always advise using this additional PPE. 
Also on safety - wear good boots, long trousers and make sure people and pets remain at a safe distance in case debris is thrown.
How to use your rotocut
The rotocut tool features two, counter rotating blades, this means it does not matter which way you work (unlike using a clockwise/anti-clockwise line trimmer) - you should use your dominant hand to hold the front-assist handle which will give you greater control when in use, and your non-dominant hand can control the trigger on the rear handle, providing additional stability.
Maintain a firm grip with both hands while using the rotocut, holding it with the rear handle at about hip height.
Move the blades from side to side to cut through weeds, moss and grass around stakes or guardrails, wall edges, road curbs, fences or trim vegetation to the desired length.
Check your manual for full information on safe and correct operation, cleaning and storage.
The Multi-Tool System
The rotocut is an additional attachment to add to your range of cordless garden tools available in the EGO multi-tool system. Click in whichever EGO battery you wish to use into the power head, and the simple tool-free coupling system makes switching your attachments quick and easy. 
It's a truly innovative tool. Like all our products, the rotocut comes with an exceptional warranty, showing our confidence in its reliability and robustness.