Tips on using a cordless garden cultivator
The best time to use a cultivator on your garden or allotment soil is autumn or spring, depending on the type of soil in your area. Autumn, before the rain and snow soak the ground, is better for clay soils.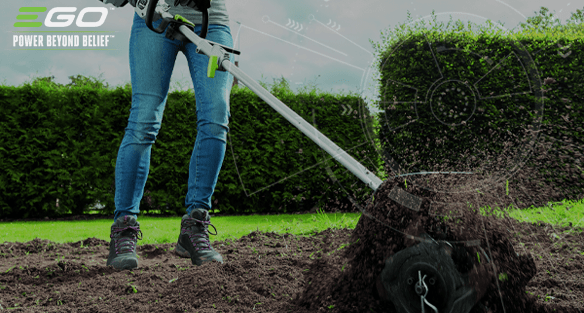 Overview of soil cultivation
Cultivation's purpose is:
Loosening soil
Uprooting weeds
Top dressing
Furrowing in
Some gardeners like to cultivate their flower beds and vegetable patches with a spade or other hand tool. This isn't practical for everyone, especially if you have a larger garden or an allotment. Cordless garden cultivators are a convenient and effective alternative.
Why use a cultivator?
A cultivator's objective is to break up clumps, get rid of (or bury) weeds and stones, and aerate seed beds in preparation for planting. Shallow cultivation uproots weeds and loosens soil around plants, making it easier for the air and water to penetrate deep into the soil.
Some gardeners also use it to mulch in manure to feed the soil. This 'top dressing' can also be done with compost, leaves or other organic fertilisers. The shallow cultivation loosens the top crust of soil and integrates the added nutrients. A cordless cultivator tool will also make light work of trenching in new topsoil. 
Tips on using a garden cultivator
To avoid any damage to the cultivator or trees, take care not to catch the blades on large roots.
Avoid cultivating too deeply, as this could damage the shallow roots of some plants.
Choose a cordless cultivator tool with a longer cutting width - our multi-tool cultivator attachment works extra hard with a 24cm cutting width.
An EGO cordless hand cultivator will move forwards, backwards, left and right, and in a circular motion, so you can adapt your method to the size, shape and soil conditions.
If your garden soil is packed hard, try alternating between forwards and backwards movements.
Trenching and furrowing can be achieved by slowly walking backwards with the hand cultivator to create the furrow.
Essential safety tips for a cordless garden cultivator
While there's no cumbersome cord to keep out of the way, or a petrol tank that creates noise and fumes, a cordless hand cultivator is a powerful garden tool that needs careful handling.
Read the manual, paying special attention to the health and safety tips and maintenance.
Inspect and clear the area of any hidden objects like glass, stones, rocks, concrete, fence wire and pieces of metal, which otherwise might be thrown or entangled in the blades.
If you do hit something, immediately switch the cultivator off and inspect blades for signs of damage.
A powerful cordless hand cultivator like the EGO model should be brought up to faster speeds slowly and used with both hands.
It's a good idea to get your garden power tools serviced on a regular basis.
If you've bought a new garden cultivator from EGO, don't forget to register it for an extended 5 year warranty (2 years for professional users).
Check your hand cultivator for damage or wear and tear before each use. Worn or damaged parts should be replaced with identical replacement parts by a qualified engineer. If you have an EGO hand cultivator, contact EGO Customer Service or find your closest EGO dealer for more details.