Why a cordless pole saw is the safest way to prune high branches
There's no need to precariously balance yourself at the top of the ladder.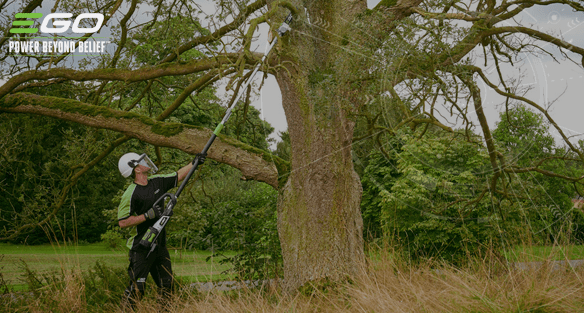 According to figures published by the Royal Society for the Prevention of Accidents (RoSPA), falls are the most common type of accident in the garden (115,000).
However, it says "the biggest threat to people actually gardening is a cut (19,000), then falls (18,000) and being struck by things (12,600)".
Falls, cuts and being struck are all risks for jobs in the garden that involve pruning or cutting trees and high shrubs.
Your safest option is to select a cordless garden tool that you can use while your feet are planted firmly on the ground.
Battery powered pole saws are best
Aside from the environmental benefits to avoiding using a petrol pole saw, battery powered pole saws have many other features that make them a safer choice for tricky and potentially dangerous jobs.
Lightweight and ergonomic to handle

Can be fitted with a shoulder harness for comfort and balance

Petrol-beating battery power that does the job quickly and efficiently

No hassle of cords getting in the way, or petrol spilling

Low vibration, low noise

An auto-lubricating oil tank that keeps the chain running freely
The PSA1000 Multi-tool pole saw is an attachment for use with the EGO multi-tool. 
Our award-winning multi-tool system is one of the most popular battery powered products within the EGO range for both professional and domestic users alike thanks to its versatility. The power head can be coupled with any EGO battery to give you the power you need to slice through tree branches fast and efficiently. 
However, this tool on its own won't help you reach very high. You will need an extension pole if you want to use your pole saw without the need for a ladder.
Telescopic / extension poles 
Made from carbon fibre, the EP7501 Multi-tool extension pole gives you 78cm (30.7 inches) more reach and weighs only 600g - the equivalent of a tin of beans.
To use the extension pole, simply click it into place on the PH1400 multi-tool head, then attach the pole saw - or indeed, any EGO multi-tool attachment.
For even higher pruning, the Professional-X range of telescopic multi-tools are ideal.  For example, the PPX1000 Professional X telescopic pole, which has a reach of 4 metres is plenty to carry out pruning tasks from the ground.  The in-line battery position gives optimum balance during use and lightweight aluminium oval shaft is lined with a rubber sleeve for comfort, grip and reach. We recommend using a shoulder harness for additional balance. 
Note: check compatibility between your pole saw attachments and telescopic extension poles before buying.
The Pro-X pole saw and all-in-one kit
Part of our Professional-X range, the PSX2500 telescopic pruning saw attachment will help you cut high branches up to 200mm in diameter when used with the EGO Power+ Professional-X Telescopic Pole (PPX1000), purchased separately. This cordless garden tool is particularly suitable for professional and specialist use. 
Pruning trees isn't the only task that might require you to climb a ladder. Trimming your hedge is another high-risk gardening activity and for this reason we've created the PPCX1000 Professional-X telescopic kit. 
Our Professional-X telescopic multi-tool range is ideal for professionals or for specialists. Available within this kit is the multi-tool head (which differs from the PH1400E), a pruning saw and hedge trimmer attachment.
This means you can prune tree branches up to 200mm in diameter and hedge branches up to 26mm in diameter. 
In particular, the hedge trimmer attachment allows you to cut in six adjustable angles and has an additional twist rotation so you can achieve the finish you desire. 
Safety when using your electric pole saw
Correct use of the battery powered pole saw will help you stay safe while pruning your trees. Below, we've included a selection of relevant safety points.
Always hold the pole saw with your one hand on the rear handle and your other hand on the front handle.

Wear safety glasses and hearing protection plus protective equipment for head, hands, legs and feet.

Don't operate a pole saw in a tree - this risks injury. 

Always keep proper footing and operate the pole saw only when you're standing on a fixed, secure and level surface.

Inspect the work piece for nails, wire, or other foreign objects prior to cutting. 
When cutting a limb that is under tension, be alert for spring back. 

Use extreme caution when cutting brush and saplings. The slender material may catch the saw chain and be whipped toward you or pull you off balance. 

Keep handles dry, clean, and free from oil and grease. Greasy, oily handles are slippery causing loss of control. 

Cut wood only. Don't use the pole saw cutting plastic, masonry or non-wood building materials. Don't use it for any purpose it hasn't been designed for.
Please take the time to read the safety instructions in the manual in their entirety. 
Cordless garden tool technology is the safest you can choose for your health (low noise, no vibration or fumes, lightweight and ergonomic) as long as it's used correctly.