EGO Power+ products come with extended warranties up to five years when registered within 30 days of purchase. Read our warranty information for more details.
Full Description
Our LB5800E blower is powerful, significantly quieter than petrol-powered equivalents, and produces zero emissions. Our jet turbine technology means this blower has an output of 986m3/h when used in boost mode – giving you extra power when you need to move more stubborn debris.
The blower also comes with both the flat and round nozzles, so you can swap them over when you need to. This gives you plenty of flexibility when it comes to clearing leaves, stones, and anything else you might come across on your way. If you're using it for an extended period, it's compatible with our EGO Power+ backpack, so you can take the additional weight from the battery off your arms, leaving the tool at a feathery 2.2kg.
Designed to keep you in control - from low speed, low volume airflow for those delicate areas, to high speed, high volume airflow for hard-to-shift wet leaves and objects. With more power than most handheld petrol blowers on the market, that's more than enough to clear up even the biggest windfall.
Key Features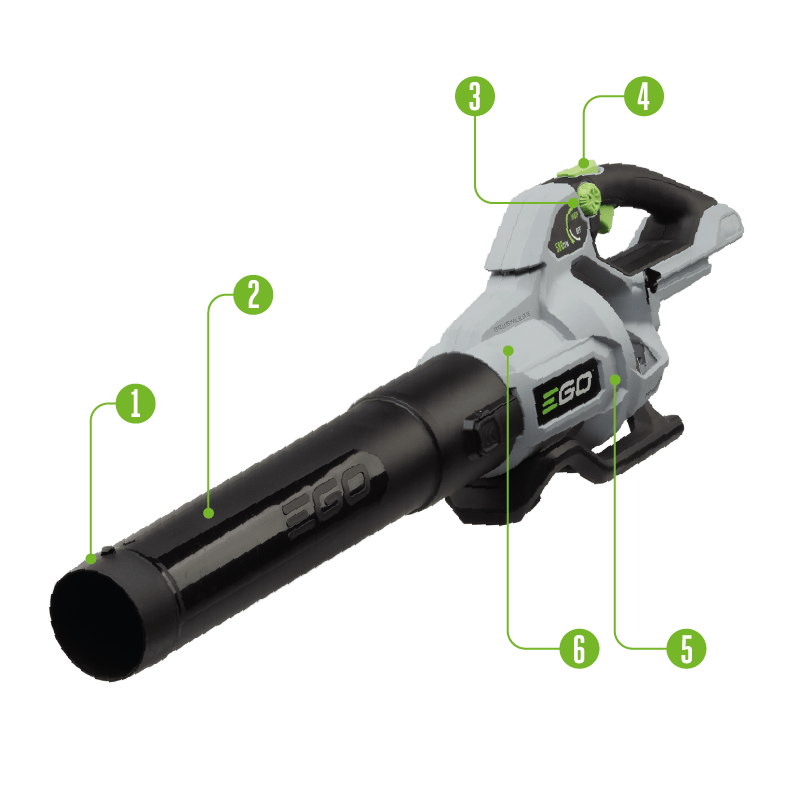 LARGE BLOWER TUBE

Greater diameter delivers maximum airflow

FLAT NOZZLE ATTACHMENT

Ideal for wet leaves

VARIABLE SPEED CONTROL

Adjust to the speed you require

TURBO BOOST MODE

For a 986m3/h petrol-blower beating output

HIGH-EFFICIENCY BRUSHLESS MOTOR

Delivers more power and greater run time

TURBINE FAN ENGINEERING

Utilises advanced aeronautics technology
Product Specification
| | |
| --- | --- |
| Run Time 2.5Ah - Boost | Up to 9 minutes |
| Run Time 2.5Ah - High | Up to 15 minutes |
| Run Time 2.5Ah - Low | Up to 100 minutes |
| Run Time 4.0Ah - Boost | Up to 14 minutes |
| Run Time 4.0Ah - High | Up to 24 minutes |
| Run Time 4.0Ah - Low | Up to 160 minutes |
| Run Time 5.0Ah - Boost | Up to 18 minutes |
| Run Time 5.0Ah - High | Up to 30 minutes |
| Run Time 5.0Ah - Low | Up to 200 minutes |
| Run Time 7.5Ah - Boost | Up to 27 minutes |
| Run Time 7.5Ah - High | Up to 45 minutes |
| Run Time 7.5Ah - Low | Up to 300 minutes |
| Air Speed - Boost | 270 km/h |
| Air Volume - Boost | 986 m3/h |
| Force - Boost | 18 N |
| Speed Setting | Constant variable speed with lock-on + boost |
| Weight without battery | 2.2 kg |
| Motor Type | Brushless |
| Noise Rating (LpA) | 78.4 lPa |
| Noise Rating (LwA) | 95 LwA |
| Vibration | 0.18 M/S |
| Manual Download | Download Manual |