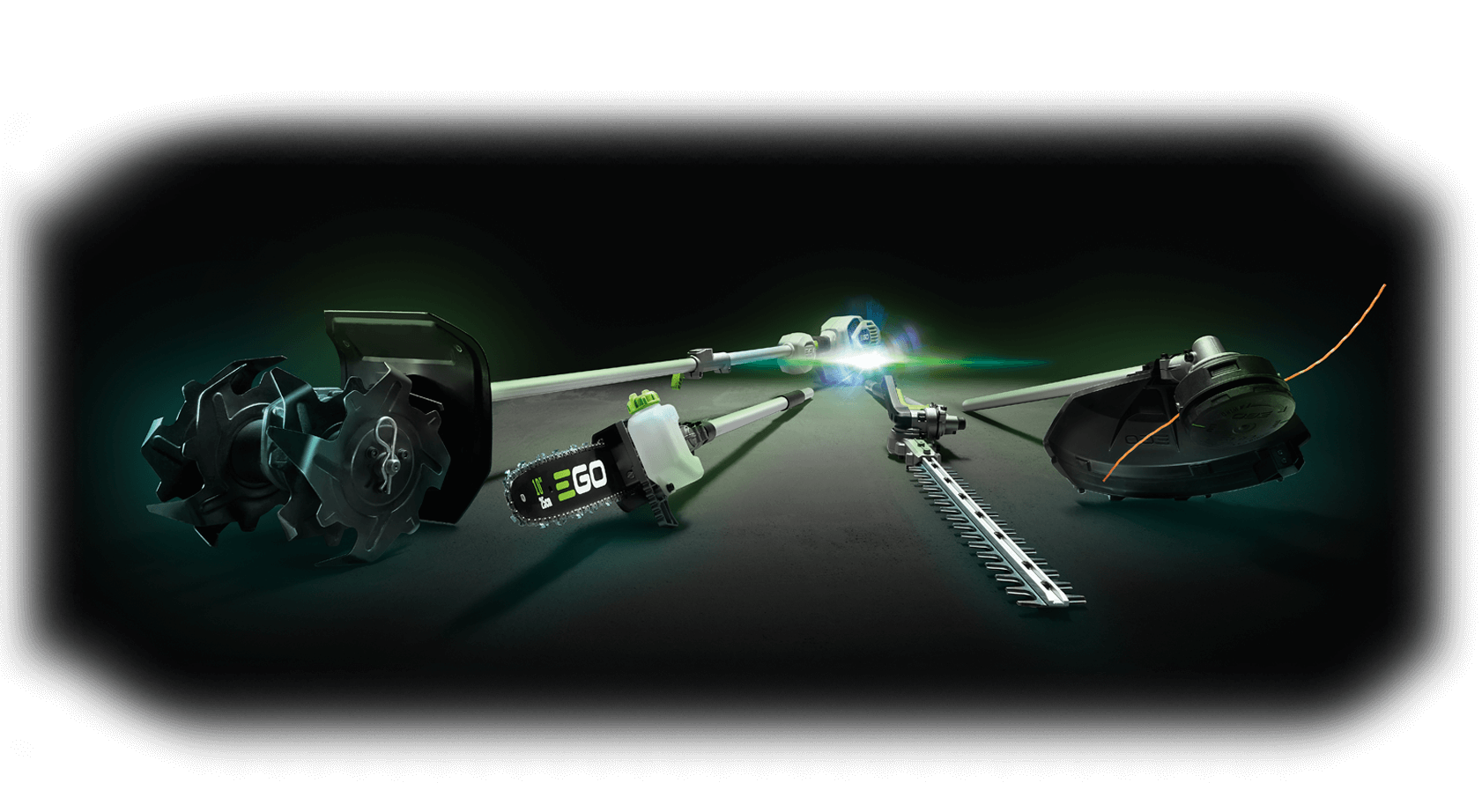 MHSC2002E
MULTI-TOOL KIT: LINE TRIMMER + BRUSH CUTTER BLADE + HEDGE TRIMMER + POLE SAW + EDGER ATTACHMENTS
The EGO MHSC2002E multi-tool kit enables you to tackle a wider range of garden tasks with five attachments, the PH1400E power head, 5.0Ah battery and rapid charger. Complete your tasks with ease with the simple and secure coupling mechanism, allowing you to quickly change the attachment tool-free.
Full Product Description
The EGO Power+ multi-tool is the outdoor power tool you can't do without, and this ultimate multi-tool kit gives you a perfect platform to tackle every garden task. The PH1400E power head is perfectly balanced to give you a comfortable and easy experience. The line trimmer allows you to trim grass along fences and walls with precision, and includes our Rapid Reload head for easy line replacement. If you need to remove thicker, overgrown areas, you can simply click in the brush cutter attachment to complete your task.When it comes to finishing the lawn, the EGO edger attachment has quick depth adjustment and a handy guide to make achieving a perfect edge easy. Use to neaten edges along paths, driveways or flowerbeds.The hedge trimmer attachment will tackle high or low hedges with ease, plus the head has 12 adjustable angles to suit the job at hand, and allows for compact storage. The sharp diamond ground blades are no match for conifers, beech, holly or laurel.With the pole saw attachment, the 25cm guide bar works with the 15.0m/s chain speed to allow you to slice through tree branches quickly and efficiently. To power the tools, a 5.0Ah battery is also provided within the kit. EGO's 56V ARC Lithium™ technology is perfectly optimised to provide the best balance between required performance and usable power, which means it performs to its highest level for every tool. And when it's empty, it will take only 40 minutes for a full recharge.Includes: PH1400E - Power head STA1500 - Line trimmer attachment HTA2000 - Hedge trimmer attachment PSA1000 - Pole saw attachment EA0800 - Edger attachment ABB1203 - Brush cutter blade BA2800T - 5.0Ah battery CH5500E - Rapid charger
Benefits of EGO Power+ Technology
Delivering the power you need, for every job. Our 56V ARC Lithium™ battery is a marvel of engineering that surpasses the competition on every level, and have the capability to out perform petrol. All our 56V ARC Lithium™ batteries are interchangeable across the entire EGO cordless range - so there's a battery for every tool and every job.

As a mature, market-leading company and part of the Chervon Group, we pride ourselves on best practices that ensure our products are of the highest possible standard. In fact, we're so confident in the quality and performance of our tools that we offer industry-leading warranties for tools and batteries purchased by professional and domestic users.

At EGO, we think beyond performance. Our experts are relentless in their drive to innovate tools for a better world. EGO's 56V ARC Lithium™ batteries not only outperform fuel, they are better for the environment. Help us lead Europe to a battery powered future and commit to the smarter, greener way of working outdoors.
Switch to battery and plant a tree all at once.
Or Buy Online
A range of specialist online retailers stock the full range of EGO Power+ products. To visit our UK distributor's EGO website, please see below: