Why does cutting height matter?
Lawn height is a controversial topic - every expert has their sweet spot. Let's take a look at the basics, so you can make your decision.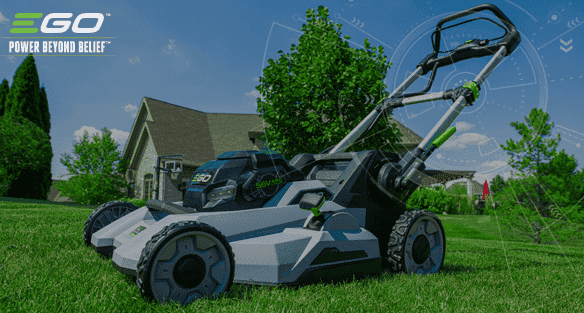 Most people are aware that your first mow of the year is best left slightly longer than normal, but what about cutting heights throughout the year?
Experts have varying opinions. Let's take a look at what they're saying and why - which should help you decide what's good for your lawn.
Lawn mower cutting heights
All lawn mowers should have a variable cutting height - it's a pretty basic function. Some lawn mower brands have more limited options than others
EGO's range of battery powered lawn mowers has a wide range of cutting heights, suitable for domestic and commercial use.
Our manual and self-propelled models allow you to cut the grass to between 20cm and 9.5cm (20mm and 95mm), depending on model.
Our Z6 Zero-Turn Ride-On (ZTR) mower has a large cutting height range of between 2.5 – 10cm (25mm and 100mm – 10 settings).
Type of grass affects the cutting height you should choose. However, there are other factors you should consider, like the season and the weather.
If you're new to mowing, or you want to take full advantage of the functionality of your EGO mower, be prepared to experiment a little.
Check out the full specification, including cutting heights, of our manual and self-propelled battery mowers.
Guide to lawn cutting heights
Cutting height
The average height of an ordinary, healthy lawn mid-season can be 20mm to 25mm.
The average height of an ordinary lawn in cooler, wetter weather can be 40mm or longer.
Consider raising the height of your lawn to improve the biodiversity in your garden, use less energy, and encourage wildlife and valuable 'weeds' - see our guide to eco friendly lawn care.
Tips and inspiration
Only ever cut a third off the total height of your lawn at a time to keep it healthy and looking good.
Leave your first mow of the year slightly longer and leave cuttings scattered on top for the nutrients.
Lower your cutting height incrementally until you get the results you want. Experiment carefully with higher and lower cuts.
Raise your cutting height in hot weather, allowing your lawn to grow longer and prevent moisture in the ground from being evaporated.
If you want to support wildlife and insects, cut your entire lawn at a high cutting height (80-95mm) then mow paths, play areas and patterns within it at a lower cutting height.
Don't mow your lawn if the ground is wet - you risk accidentally scalping the lawn, even with a raised cutting height. Also, it's harder work!
Sharp blades get the best results. You can sharpen these yourself or take them to your local EGO dealer for a qualified engineer to sharpen.