Midsummer gardening tips
General jobs to do in your garden at the height of summer, which might help you get ahead of the leafy chaos of autumn.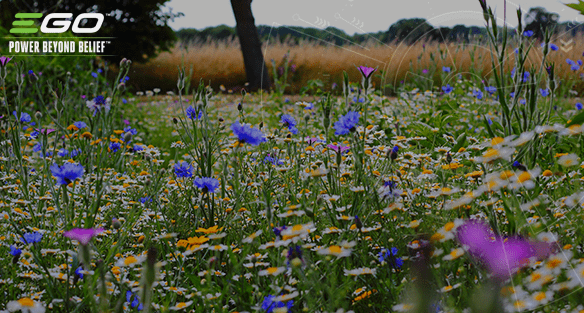 Ground-level garden maintenance for midsummer
1. Watering
If your garden is looking parched after several weeks of sunshine and little rain, give it some water. 
Wait until the evening when the sun can't lift it from the surface of the soil - it can soak deeper into the soil and be taken in by the roots.
If you're worried about using clean household water for the plants - for example, if you're in a drought area or simply conscious about water use, see our guide to using grey water on your lawn and garden.
2. Weeding
If you don't want to use chemicals on your garden path or patio then regular weeding can help you keep on top of things.

Should you have a problem path or driveway, a rotocut is especially good at bringing even the tallest weeds down to ground level - even on hard surfaces.
3. Leaves and detritus
You might already have a scattering of dead leaves, petals and other plant detritus on your paths, drive and lawned areas.
Unfortunately, clearing up dead plant matter is a job that's never finished! Though you can make it slightly easier on yourself with a large rake or, better still, a leaf blower.
Each EGO blower in the range utilises jet turbine technology and can be used with a backpack battery for maximum comfort.
Mid-level garden maintenance
4. Deadheading
Cutting off the dead heads of flowering plants and shrubs looks neater, and has the added benefit of encouraging a second round of flowers.
Roses benefit from deadheading as well as fruit or seed producing plants and shrubs - deadheading puts a stop to the production of fruit and seeds so they're more likely to flower again.

If your plants are tall or particularly broad, making it tricky to get to the dead heads, our award-winning multi-tool can be fitted with an extension pole, or our Professional-X telescopic multi-tool set might be of assistance.
5. Harvesting
August is a month for the early harvest of certain fruits and vegetables, including garlic, plums and early-ripening apples.
While some seeds are best harvested in the early summer, now is a good time to capture the other varieties you want to save for next year or distribute to friends and family as Christmas gifts. 
Seed heads will be ripening now, so be on the lookout for the signs. The Royal Horticultural Society has a specialist guide on harvesting and storing seeds.
Above the ground garden maintenance for midsummer
7. Pruning
Pruning trees and shrubs in late summer avoids the risk of the plants becoming infected with fungal spores, which are airborne from September to May. 
Some pruning can take place at a convenient height, but a lot doesn't. A pruning saw on a telescopic pole is the safest way to approach this job - your feet can stay firmly on the ground.
Always prune after flowering - so this will need to be done at different times of the year to accommodate your different species. 
8. Hedge trimming
All hedges - whether formal or the wilder variety - need maintenance at least once during the year...
Don't go in too hard with some species - especially evergreens, which won't always recover
Be careful of birds' nests - it's against the law to disturb or destroy them if they're in use (see The Wildlife & Countryside Act 1981)
Summer trimming might encourage a fungal infection in some species - check what's best for each individual plant
You've got the choice of a battery-powered hedge trimmer or a hedge trimmer attachment for your multi-tool. Also see our guide on pruning hedges for more tips and links to further information.