What is a brush cutter used for?
Most gardeners have a line trimmer (known colloquially as a cordless strimmer) but there are occasions when a brush cutter is the proper tool for the job.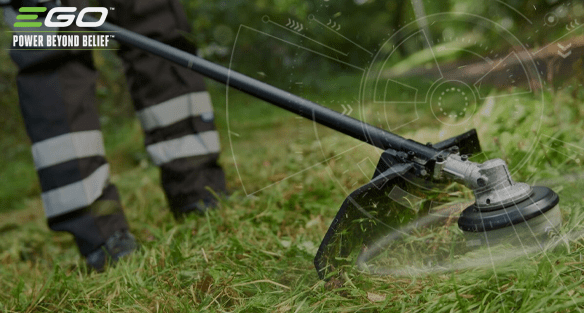 An electric brush cutter is the perfect cordless garden tool if you have an allotment, or you need to control or clear larger areas of overgrown brambles, weeds and shrubs.
They have similarities in design to a cordless line trimmer - they are light, hand-held garden tools. Our models can be fitted to a single or double shoulder harness with hip pad for additional comfort.
Our cordless line trimmers can be used with any EGO ARC Lithium battery too. However, while the line trimmer literally cuts using a plastic line, a cordless electric brush cutter has rotating steel blades.  
These blades allow it to tackle heftier jobs that even the 38cm Bike Handle Line Trimmer, one of our most robust strimmers, would struggle with.
What jobs can an electric brush cutter tackle?
A brush cutter is more suited to tougher jobs which your line trimmer may not be able to handle. Areas you may need to use an electric brush cutter could include:
Thick vegetation

Tall, rough grass and weeds

Brambles, bushes and shrubs

Small hedges with thin trunks
Overview of brush cutter features
The three-sided steel blade makes light work of tough, weedy undergrowth and scrub.

A large cutting width means you can get closer to hard-to-reach areas.

A variable speed trigger helps you ensure you're working efficiently and safely.

Models that accommodate a shoulder harness are more comfortable and safer to use on rough ground or over long periods – some EGO models have a harness included.

Smaller models will be perfect for smaller gardens and allotments, while large spaces require a heavy duty brush cutter, for example from our

Professional

or

Professional-X

range.

Choose a model that is well-balanced, light and yet strong - our models have solid steel or carbon fibre shafts that won't bend or lose shape over time.

Some models, like the

BCX3800 Professional-X Line Trimmer / Brush Cutter

, have bike handles to add more comfort and stability during operation.

Some models of brush cutter come with both a line trimmer head, as well as a brush cutter head. The BC3800E, BCX3800 and STX3800 are compatible with our

rotocut attachment

too. 

Look for a battery that will give you the running time you'll need to get the job done. EGO's most powerful domestic 10.0AH battery will keep you working for up to 80 minutes or up to 420 minutes with our Professional-X backpack battery. Alternatively, you can opt for a smaller battery and a rapid charger.

It's worth noting that petrol brush cutters are heavier and give off more noise and vibration.

Safely operating a brush cutter

Cordless/electric brush cutters, especially state-of-the-art models from EGO, are easy to use and assemble. 

As with all cordless garden power tools, however, you should always check your manual for the safety instructions, which include wearing safety glasses and other PPE, and not operating in close proximity to people and pets. 

Your manual should also give you easy-to-understand instructions on assembling your brush cutter and, if applicable, safely changing between the line trimmer head and the brush cutter head.

Compare battery powered strimmers and brush cutters

A while ago, we compared battery powered strimmers and brush cutters to compare their performance and help you decide which model would suit your needs. 

Head over there if you want to know more about the two different types of garden tool, or check out our range of line trimmers and brush cutters.